A few weeks ago someone showed me a newspaper article entitled "New theory could prove how life began and disprove God", which was published in the UK newspaper The Independent. Now I have, of course, heard media pronouncements of the nature published in this article frequently, reporters often seem to have a knack for making provocative pronouncements about the theological and philosophical implications of various theories (and one can usually take such prouncemants with a grain of salt), but this one caught my attention because of the unstated premise it contained. This premise is, I think, common in discussions about religion and science, which makes it worth addressing in its own right.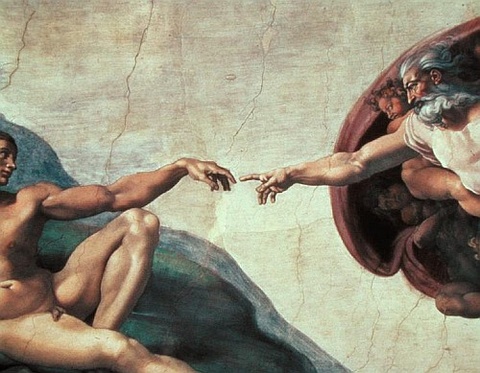 The author's commentary opens as follows:
"A new theory could answer the question of how life began – and throw out the need for God. A writer on the website of Richard Dawkins' foundation says that the theory has put God "on the ropes" and has "terrified" Christians. It proposes that life did not emerge by accident or luck from a primordial soup and a bolt of lightning. Instead, life itself came about by necessity – it follows from the laws of nature and is as inevitable as rocks rolling downhill. …"
According to the author, the 'new theory' proposes that life arose from non-life by "natural necessity", that is: according to the laws of nature. Interestingly, the author assumes the fairly standard account of 'laws of nature' whereby they are more than just regularities, they involve a kind of necessity that explains or grounds regularities.  The author draws the conclusion from the new theory that God does not exist.
Now the author is not exactly clear on why this conclusion follows. One argument he seems to grope towards is that the new theory provides all sorts of problems for belief in God because someone on Richard Dawkins' website says it does.  I suspect, however, that – apart from simple affirmations of faith in Dawkins blog – the author has something a bit more sensible in mind in his thinking.
The premise is that: life arose from non-life, according to the laws of nature; the conclusion is that: God did not create life. The unstated assumption seems to that: if you can explain something by natural law then it follows that God did not do it.  Implicit in the reasoning is the assumption that appeals to natural law and God are rival and incompatible hypothesises; the truth of one excludes or rules out the other.
I think anyone familiar with the history of theological thought should find this assumption odd. For [Read more →]
Tags: Atheism · Richard Dawkins · Science and ReligionNo Comments.