The traditional conception of hell understands the punishment of the finally impenitent to be conscious eternal torment. The punishment of hell is eternal in the sense of it being of unending duration and it involves conscious torment. Annihilationists, on the other hand, argue the traditional view is contrary to scripture. They contend that, in scripture, the punishment of hell is eternal destruction, which involves the total and irreversible destruction of the wicked. Hell is eternal in the sense that the ultimate punishment inflicted in hell, death, is permanent; one is dead forever and is never resurrected or reincarnated to live another life.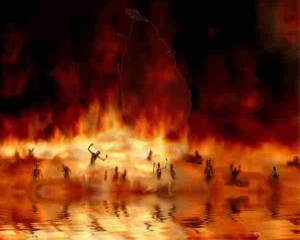 Much of the debate over this in evangelical circles is exegetical. It focuses on the meanings of biblical phrases such as "eternal fire," "eternal destruction," "death," "perish," "everlasting contempt," "eternal punishment," "unquenchable fire," "second death," "killing the body, "soul," "lake of fire," "the smoke of their torment rises forever," "blackest darkness [that] has been reserved forever," "outer darkness where there is weeping and gnashing of teeth", and so on. Traditionalists take these passages to refer to eternal conscious torment where as annihilationists argue that, in their contexts, they signify permanent destruction of the wicked.
In his article, "Annihilationism, Traditionalism and the problem of Hell"[1], Shawn Bawulski brackets these exegetical issues and focuses on the ability of each conception to answer an objection to the concept of hell. He dubs this objection as "the logical problem of hell". His conclusion is that traditionalism offers a more plausible answer to this objection than annihilationism does. I think Bawulski's arguments for this conclusion fails. Here, however, I will simply comment on the "problem of hell" as he articulates it.
Bawulski's elucidates the problem of hell as follows:
(A) Justice demands that punishment for sins must be proportionate to their seriousness; it is unjust for punishment of sins to be disproportionate to their seriousness.
(B) No human sin or lifetime of human sinning can be infinite in seriousness.
(C ) Hell is infinite punishment.
(D) To punish human sins with hell is to punish human sins disproportionately to their seriousness. (From (B) and (C)).
(E) Therefore, hell is an unjust punishment for human sins.[2]
This argument turns on the notion of "infinity." Bawulski notes: "The language of infinitude in this discussion can be vague and slippery" and the argument "has the liability of possibly equivocating" and can, be used in at least two different senses. The first sense, is the sense Bawulski officially states [Read more →]
Tags: Annihilationism · Apologetics · Hell · Philosophical Theology · Shawn Bawulski · Systematic theology4 Comments