Matt's article "Feticide, the Masoretic Text, and the Septuagint" is now available in Vol 74, No. 1 – Spring 2012 of The Westminster Theological Journal.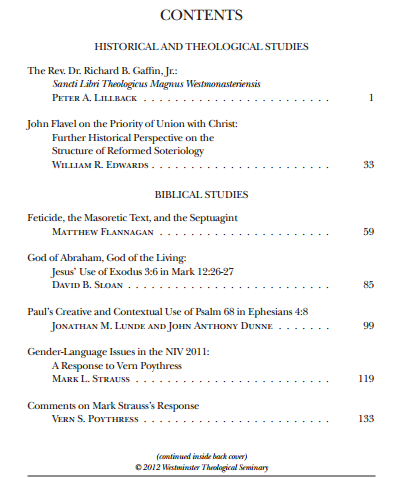 An abstract of "Feticide, the Masoretic Text, and the Septuagint" follows:
A long Christian tradition of moral reflection on feticide interprets feticide, the killing of a formed conceptus, as a violation of  God's law against homicide. In her book, Our Right to Choose, Beverly Harrison attempts to undercut this tradition of interpretation.

Harrison alleges that the Alexandrian argument is based on a mistranslation of the Hebrew text. Harrison's argument is based on apparent discrepancies between the Septuagint (LXX) and the Masoretic Text (MT) over the rendering of Exod 21:22-25. She makes three claims. Firstly, she suggests that Christian prohibition of feticide is based upon the LXX. Secondly, that the MT, which in her view accurately captures the original law, did not consider feticide a major crime. Thirdly, she argues that the LXX mistranslates this law and incorporates a prohibition of feticide into the text that is not there.

In response I examine whether each of Harrison's contentions is correct. From the outset I grant Harrison's assumption that the MT accurately captures the original and that the LXX is the later translation. I also grant her point that the argument has origins in Alexandrian Judaism and the LXX. The discussion then asks whether each of Harrison's other claims is correct. Does the MT consider feticide a minor crime? And does the LXX misinterpret the original?

I defend a negative answer to both questions.
Tags: Feticide · Masoretic Text · Septuagint · The Westminster Theological Journal11 Comments