The Autumn 2013 Stayin' Alive Pro-Life Training Day will be held in Christchurch this Saturday 16 March 2013. Matt will be speaking twice.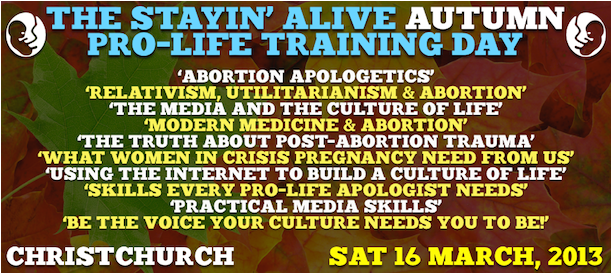 8:15am Rego's and tea & coffee (YouTube videos in main hall)
9:00am Introduction, housekeeping, and ice breaker (people bingo)
09:30am session: 'Relativism, Utilitarianism and Abortion' – Dr Matthew Flannagan
10:30am Morning tea break
10:50am session: 'Abortion Apologetics' – Brendan Malone
11:50pm Break
12:00pm session: 'The media and the culture of life' – Bob McCoskrie
12:45pm Lunch Break
13:30pm WORKSHOPS:
'Modern medicine and abortion' – Dr C. Hallagan
'The truth about post-abortion trauma' – Carolina Gnad
'Practical media skills' – Bob McCoskrie
14:30pm Break
14:45pm WORKSHOPS:
'What women in crisis-pregnancy need from us' – Sandra Martin
'Using the Internet to build a culture of life' – Jason McTague
'Skills every pro-life apologist needs' – Dr Matthew Flannagan
15:45pm Afternoon tea break
16:15pm session 'Be the voice your culture needs you to be!' – Brendan Malone
17:00pm Small group discussion
17:15pm Final wrap up
17:45pm BBQ Dinner
19:00pm Finish and clean up
When and where:
Saturday 16 March, 2013 at:
Burwood Christian Centre
54 Bassett Street
Burwood
Christchurch
Registration starts at 8:45am on Saturday 16 March, and the event runs all day finishing with a BBQ dinner at approximately 5:45pm.
The registration fee is $20 per person (includes lunch and dinner plus morning and afternoon tea).
More information including how to register is available on the Stayin' Alive website.
Tags: Bob McCoskrie · Brendan Malone · Events · Pro Life NZ · Staying Alive43 Comments