On the list of blurbs just inside the cover of The Christian Delusion: Why Faith Fails, edited by John W. Loftus (Amherst, NY: Prometheus Books) 2010, the following appears:

As a result of being published on the blurb of the book, the current edition of Philosphia Christi, Vol. 13, no. 1 – Summer 2011, shows the following in the table of contents under "Book Reviews":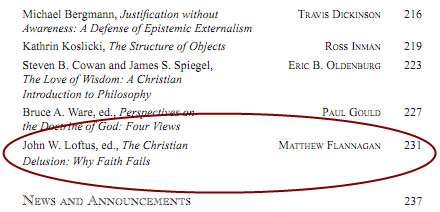 The Editor of Philosophia Christi has kindly granted Matt permission to reproduce his review of The Christian Delusion: Why Faith Fails here on MandM.
A Review of The Christian Delusion: Why Faith Fails

by Matthew Flannagan
In The Christian Delusion John Loftus brings together a series of articles by contemporary free thinkers all focused around a common epistemological critique. It is the sequel to Loftus's Why I Became an Atheist: A Former Preacher Rejects Christianity.
The book is divided into five parts, each addressing a different aspect of Christianity. Part 1 is entitled "Why Faith Fails" and comprises four chapters. In chapter 1, David Eller argues that religions both deeply influence and are deeply influenced by culture; he argues that different cultural contexts lead to different forms of Christianity. In chapter 2, Vallerie Tarico draws on cognitive science to offer naturalistic explanations for why people believe in God. In chapter 3, Jason Long explains how people believe in Christianity despite its obvious absurdity by documenting how humans frequently engage in certain fallacies, have certain biases, believe things that are comfortable and resist changing their minds.
By themselves it is hard to discern how these chapters provide arguments against Christianity. They appear to assume Christianity is false and provide naturalistic explanations as to why people believe such falsehoods. The relevance is explained in chapter 4, where John Loftus uses them to defend what he calls the Outsider Test for Faith ("OTF"). Loftus argues that a rational person should adopt the same skeptical stance towards her own religious beliefs that she does towards religions she rejects. The OTF undergirds all the articles in the book.
Part 2 is entitled "Why the Bible is not God's Word". Edward Babinski, in chapter 5, combs various psalms, myths, hymns, art work and apocalyptic literature and concludes that the Bible teaches a flat-earth cosmology where God literally lives just above the sky. Needless to say, Babinski's exegesis is extremely literalistic. On p143 he states that Revelation 21:16 claims that the New Jerusalem is 12,000 stadia in height and then argues that something this size would "block jet streams in the upper atmosphere and be pummeled by natural and manmade objects orbiting the earth" (one wonders how an asteroid can strike a metaphor).
In chapter 7 Paul Tobin summarizes some fairly standard arguments against the reliability of the Bible – it is inconsistent, not supported by archeology, contains forgeries and fairy tales, etc. Loftus rounds off this section with a long list of passages that he contends people have historically appealed to in order to justify immoral acts.
We move onto "Why the Christian God is not Perfectly Good" in Part 4. Hector Avalos offers a critique of Paul Copan's "Is Yahweh a Moral Monster?" [Philosophia Christi 10 (2008): 7-37]. Avalos draws on a lot of ancient Near East ("ANE") material; however, he often does so quite selectively. On p215, Avalos dismisses Copan's contention that the lex talionis does not call "for bodily mutilation, but rather just (monetary) compensation" as "mere assertion". However, only a page later, Avalos criticizes Copan's comments about the manumission of slaves citing the authority of "Raymond Westbrook, one of the foremost biblical legal specialists". In fact, Westbrook has defended Copan's position on the lex talionis ["The Character of Ancient Near Eastern Law" in A History of Ancient Near Eastern Law (Boston: Brill Academic Publishers, 2003) 74]. Further, Avalos contends that Jesus took the lex talionis literally in Matt 5:38-39, a position refuted by David Daube [The New Testament and Rabbinic Judaism (London: Athlone Press, 1956) 256].
Exegetical issues aside, much of Avalos's moral arguments contains subtle fallacies. He argues Christians are committed to accepting the counter factual: If YHWH commands you to kill P then it is permissible to kill P. He then points out that if we replace the word YHWH with Allah, you get the conclusion it is permissible to kill Americans if Allah commands it. Avalos contends that this calls into question the "logic" of theistic ethics. It does not. Any sound argument will be analogous to an unsound argument if we replace a true premise with a false one.
Perhaps the most glaring problem with Avalos's article is that after he argues The Torah is immoral and unjust he states that moral relativism is true. But how can a relativist consistently claim that the moral code of another culture is immoral?
Loftus rounds of Part 3 by arguing that the existence of animal suffering is incompatible with belief in God in chapter 9.
Part 4 argues "Why Jesus is not the Risen Son of God". In chapter 10, Richard Price engages in a largely ad hominem attack on Greg Boyd and Paul Rhodes Eddy. He argues that methodological naturalism is the correct historical method and that Jesus is mythical figure. Applying the OTF, in chapter 11 Richard Carrier argues that Christians should respond to the claim Christ rose from the dead with the same skepticism they have towards miracle stories in Herodotus. Loftus finishes the section with chapter 12 by taking the apocalyptic imagery of Olivet discourse literally; he argues that Jesus was a failed apocalyptic preacher who predicted the end of the world and got it wrong.
In the final section, Part 5, the authors argue that "Why Society does not depend on Christian Faith". Failing to distinguish ontological questions from sociological ones, David Eller in chapter 13, offers the non-sequitur that because different systems of mores can exist independently of religious beliefs morality does not depend on religion. He also contends that anyone who fails to grasp this point "understands very little about religion or morality" – something I am sure is news to Robert Adams, John Hare, Stephen Layman and Mark Linville.
In chapter 14 Hector Avalos selectively argues that Christianity was responsible for the Holocaust. He argues the Nazis were Christians; they promoted an Aryan Christianity which taught Jesus, preached love of one's own race and opposed the Jews. According to this Nazi theology, Paul and the later Jewish apostles corrupted Christianity by teaching love of all people including other races. Then only a few pages later he rebuts attempts to hold Darwinism responsible for the holocaust on the grounds that these fail to distinguish Darwinism from later interpretations or misinterpretations of Darwinism by others.
An even bigger howler occurs on p374; Avalos appeals to anti-Jewish pogroms that occurred in 1096 as evidence of Christian anti-Semitism. Avalos concedes "church authorities did denounce these pogroms" but dismisses this, suggesting "the laity may have acted the way they did because of words such as those of Pope Innocent III…in 1208" Are we to seriously believe the pogroms of 1096 were motivated by a papal announcement made 112 years after the fact? The book closes in chapter 15 with Carrier critiquing Rodney Stark's claim that Christianity caused the rise of modern science.
Perhaps the greatest problem with this book is the incoherence of the main line of argument. Loftus outlines the OTF in terms of two theses:
[1] The religious diversity thesis: that people from different cultures adopt different religious beliefs;
[2] The religious dependency thesis: which religion one adopts is overwhelmingly dependent on cultural conditions.
Loftus contends [2] is a plausible inference from [1] and that [1] and [2] entail the OTF. So, Christians should approach Christianity with the same skepticism they have towards Islam or Hinduism or even belief in fairy worship. Their beliefs are rational only if they can be justified from this default skeptical position.
Various analogies call this argument into question. For example, according to the articles of Avalos and Loftus, previous Christian and Jewish cultures held moral beliefs which were very different to ours. They believed in killing heretics, accepted racism, slavery, killing witches, supported genocide and so forth. Further, Carrier argues Christians despised the virtues of curiosity necessary for science. So it seems that an analogue of [1] applies to many of our moral beliefs.
Similarly, Babinski, Carrier, Eller, Price and others note that Christian and ANE cultures did not endorse a scientific epistemology or critical historical method. They believed in myths over empirical research or held to superstitious religious doctrines instead of believing the current scientific theories we believe today. Ancient Greek historians credulously accepted unreliable miracle stories. Consequently an analogue of [1] applies equally well to epistemological positions such as these.
Given that [2] is inferred from [1], if Loftus' argument is valid then analogues of [2] must apply to Loftus et al's own moral, epistemological and scientific beliefs. But then parity of reasoning would entail that their readers should adopt the same skepticism towards science and critical history as they hold towards the myths and superstitions of primitive cultures. Similarly, readers should adopt the same skepticism towards Loftus et al's beliefs that anti-Semitism, killing heretics, committing genocide and burning witches is wrong as they hold towards the moral beliefs of cultures that practice and endorse these actions.
This conclusion is obviously absurd; but, more importantly, if it were embraced it would undercut the very premises the authors in the book use to argue against Christianity. In numerous places Loftus et al appeal to science, canons, critical history and the immorality of certain actions to critique Christian belief. They do not attempt to justify these beliefs from premises which would be accepted by a skeptical outsider from a radically different culture. But these are the kinds of beliefs which analogues of [1] and [2] apply to, and hence, are the kind of beliefs the OTF says we should be highly skeptical of. If the OTF is correct we should, in fact, treat Carrier and Price's critical history with the same skepticism we currently treat miracles in Herodotus. We should treat Babinski's appeal to modern cosmology with the same skepticism we treat ANE cosmological myths. We should treat Avalos's appeal to the wrongness of slavery with the same skepticism we treat appeals to the permissibility of genocide.
Loftus is aware of this line of criticism; on p89 he admits an analogue of [1] applies to his scientific and epistemological beliefs "Unless I could have come up with this vast amount of knowledge myself, then I wouldn't know any different than others if I was born in 1000 BCE". He states "I was indeed lucky to have been born when and where I was born to know what I do in order to offer the OTF as a critique of religious faith." Citing Carrier, on p101 he makes a similar response regarding moral beliefs using the example of democracy, "any rational sixteenth-century man who was given all the information we now have (of the different outcomes of democratic vs. non-democratic nations over a long period of time) would agree with us that democracy is better."
Both these answers involve the abandonment of the OTF. Loftus assumes that he is "lucky" to be brought up in a culture that has got it right with regards to science, epistemology and morality. He suggests that what counts is not the stance skeptical outsiders hold but rather the stance outsiders would hold if they were insiders; that is, if they had all the knowledge which people of Loftus's persuasion hold. This seems like special pleading. One can imagine Christians responding in an analogous way. If Muslims were lucky enough to be brought up in a Christian home and culture they would know the same things about Jesus that we Christians have been fortunate enough to learn. Loftus can only rule out this parity of reasoning by begging the question and assuming from the outset that the moral and epistemic beliefs of skeptics count as knowledge but Christian beliefs do not.
This review has been fairly negative; however, despite the problems inherent in this book, which are substantive, The Christian Delusion is still worth reading. The book is a comprehensive and representative expression of contemporary skeptical thought from some leading free thinkers in a single volume. Given the pervasiveness in our culture of the line of argument advanced in this book, anyone who wants to understand the position of contemporary free thinkers could not do much better than to read it.
To subscribe to Philosophia Christi visit the Evangelical Philosophical Society Store.
Tags: Book Review · David Eller · Edward Babinski · Hector Avalos · Jason Long · John Loftus · Outsider Test for Faith · Paul Tobin · Philosophia Christi · Richard Carrier · Richard Price · The Christian Delusion: Why Faith Fails · Vallerie Tarico305 Comments