Easter can be annoying.  My kids all want chocolate, this year the hot cross buns sold out and Matt brought crumpets home from the supermarket instead. People who don't normally have any time for Christianity suddenly feel they must go to church, whilst some of my Christian friends refuse to let their children eat chocolate because Easter is a pagan festival. Navigating it does my head in sometimes.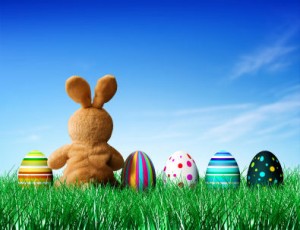 In the past week we've had people phone, email, text and raise in conversation that Easter was invented by Constantine, that the bunnies and the buns are pagan and thus consuming them is an offence against God. We've heard that the dates are wrong and that Easter dates do not coincide with Passover, that it is a Roman festival, while others say that Easter is tied up with Ishtar. This wasn't limited to people coming to us; Matt was on the Pat Brittenden Mornings Panel earlier in the week and because of that we heard that talkback radio was full of this too. So, it was very cool that Matt and I were able to have a word with the producers at Radio Rhema after the Panel, and put them in touch with Dr Tim McGrew whose interview as to Whether Easter is Pagan aired on Tuesday – click the link to listen.
Tim is a good friend, a world renowned scholar whose expertise on miracles and particularly the historical accuracy of the resurrection qualifies him as an authority on some of these Easter-is-pagan claims. While he does not touch on all of the above in the interview he debunks a lot of it.
Normally Matt and I try to do a Passover-ish meal – we do lamb, rosemary and red wine – and the kids all get to choose a king size block of chocolate each (they reason they get more chocolate for the money than buying Easter Eggs) and I try to ensure indulgement in a decent hot cross bun. Throughout the weekend we focus on Christ, his death and resurrection. We read relevant passages, we have conversations about the Passover and the fact that Christ is the fulfillment of it, in years gone by when the kids were younger we've made Easter story cookies. Basically we enjoy the food, the public holiday and we weave learning opportunities and ways to focus on Christ in as we go so that the thrust of Easter is on him.
We are not worried about taking this approach because Christ conquered all and our focus and heart and intent is on him. Don't get me wrong, it is important to pause and check that one is not engaging in Paganism but just because something at some point had something to do with Paganism does not mean it is Paganism presently. Tree worship is common among Pagans so must we eschew wood? What about Pythagorus' theorem? If Easter was just Ishtar worship then we would not be celebrating it; how many of us wanting the spiritual side of Easter are heading to the local Ishtar temple this weekend? As for Constantine inventing Easter, direct evidence for Easter being celebrated by Christians can be identified in the 2nd century, some couple of hundred years prior to Constantine – Wikipedia can tell you that much.
Tags: Constantine · Easter · Ishtar · Pat Brittenden · Radio Rhema · Tim McGrew24 Comments