Yesterday I applied for and got a one week extension on my research project as I couldn't keep up with the necessary pace to finish it by Friday – I was getting too sore. This means that open mic week(s) needs to continue a little longer so please bear with us and do submit a guest post.
Whilst we are trying to have blinkers on in terms of anything but study and essential day to day life, there have been some issues that have come up that we really want to blog on but lack the time. One in particular really has me going – the proposed changes to ACC.
There is not point in repeating what most bloggers of my political persuasion have already opined, I'll just throw down a few thoughts from my own perspective as an ACC client.
My first point is that ACC is not welfare. It is an Accident Compensation Scheme. Accident compensation is about restoring a victim of an accident that was not their fault to as close as possible the state they were in pre-accident. Tort law is the area of law that, in the absence of state interference, covers injury caused by people's negligence – what we call "accidents" here in New Zealand. Tort law says that you must take your victim as you find them; restoration, assessment of harm, is not to be based on the average person but on that person, the victim.
My next point that I'd like you to keep in mind as you read this is that I think that ACC should be private and fault based. This is my ideal. My ideal is not reality as in New Zealand, accident compensation is state run. While it remains state funded, while the option to sue my injurer remains unavailable to me by statute, it must function as a just and fair accident compensation scheme, run in line with tort jurisprudence.
"The assessor ACC sent around told me, get this, that my 8 and 9 year olds should be doing all the washing, vacuuming, dishes, etc! Unbelievable! I would, justifiably, have CYF on my doorstep if took that advice."
I have some criticisms of the proposed changes based on that fundamental premise ACC is built on, that it is supposed to be an accident compensation scheme. I reiterate, I support moves in the direction of privatisation e.g. rebates for those who take out private accident insurance. I agree that it should not be available to those who get hurt participating in crime. I think it should not be available to those who self-harm when they have refused treatment and are culpable for the self-harm (I think self-harm is not as cut and dried as people think). I also think, given how bankrupt ACC is, that it is only realistic that the money come from somewhere, increased levies are inevitable as is some threshold or excess level. However, that is about as far as I'll go with the government on this one. Getting it right as to what should be cut and what must be left is crucial and ACC and the new proposals FAIL miserably on this score.
People say that ACC is "excellent cover" and a "great scheme" but I disagree. I have lived on it for the past year and half since a car accident required the big black thing, in the middle of the below MRI scan of my neck, to be inserted into my neck. See how it is making a bulge into my spinal cord (the long dark gray thing in the middle)?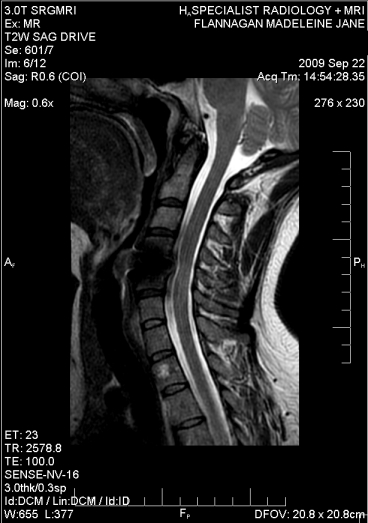 Anyway, having set out my premises, disclosed my bias and established that I am, in fact, injured, now judge for yourself if you think my cover is excellent or great or even adequate.
Pre-accident I was the main bread-winner for our family which comprises 4 children and two adults. I worked for a generous company that gave regular pay rises, gifts and outings to its staff and sometimes their families. I had access to discounted (sometimes free) cereal products and sandwich spreads which helped a lot with the family grocery bill. The company paid for my university fees, my text books and for me to attend lectures so I could complete my law degree. I had a career path set out in front of me, there was a ladder to climb. Matt worked part-time/fixed-term jobs within academia as he has struggled to find full time work as an academic within New Zealand. That worked for us as someone had to be home with the kids, though we would have preferred it the other way around, Matt full-time as an academic and me part-time but you know, life's like that sometimes and as a family you make the best of it.
In March 08, whilst I was lawfully stopped at traffic lights, having left work heading for Uni, a woman drove into the back of my car, smashed me into the car in front, writing off my car and destroying two of the discs in my neck which led to disc replacement surgery in Dec 08. She was never charged, I was never given an explanation as to what happened, oh and, she never even had the decency to come over to my car and see if I was alright – other people, passers by and the occupants of the car in front, called the ambulance and stayed with me. As far as I know she got to go back to her life with only her own car insurance claim to worry about and she doesn't have a clue about what happened to me (my injuries were initially mis-diagnosed as mild whiplash).
My employer got put through hell. All sorts of ACC nightmares ( I was officially on the clock) that took managers out of their normal jobs. My managers had to put up with temp after temp who couldn't quite do my job because they didn't have my institutional knowledge of the company. Nevertheless work sent me flowers, phoned me and held my job far longer than they legally had to. Eventually, when it became apparent I was not going to be fit for work for a very long time, if ever, they let me go but threw me a big party and gave me a leaving present.
ACC's treatment of me was a different story.
We live on 80% of the full-time salary I was earning two years ago. No pay rises, no perks, no discounted household products or entertainment. No uni fees, no text books… So in reality it is not 80% of the income I was on as part of that income was not not salary, it is less than 80%.
How would you and your household  cope with a 20%+ drop in your income?
Then there are the extra costs that ACC do not cover:
Because I cannot just go to the chemist and get my pain medications without a prescription, I have to pay $20 a pop to my GP every 6 weeks to get the piece of paper that says I can get my pain meds. I tell the GP what drugs I want, how many and the GP rubber stamps it.
Every 12 weeks my specialist wants an x-ray. These cost me $35 a pop.
We have to purchase a tube of deep heat every week – it's $8-10 depending on supermarket specials.
Then there is the petrol spent driving to the GP, pharmacy and specialist (his office is a decent drive). There is also the removal of Matt from whatever work or study he is doing to attend these appointments as I often cannot drive to them. Then there is the babysitting to get rid of the kids so I can attend these.
Add in the random stuff, MRI scans, visits to pain clinics and you get a more of these costs.
The expensive supportive bed we had to purchase so I could sleep cost a couple of grand.
Then there is the $200 pillow – it is a neck injury that I have afterall.
We recently purchased a monster bean bag so I have something supportive I can sit in, it is excellent for recovering after I have overdone it and it will be vital for exams and for having something portable when I want/need to go out – I can now spend a weekend-day at the beach with my kids for example. It cost $150.
Then there is Osteo treatment. Osteo treatment reduces the level of pain drugs I need to take by almost half. It is a very effective form of treatment. I am in less pain, I have improved function as a result of less pain, I can get more out of my life and I take less drugs. Osteo is GOOD. This costs me $35 per week. (Physio is free but physio is not effective for this injury – I have seen half a dozen different physios and none can produce the results anything like what osteo treatment can). As a family we made the sacrifices necessary to find that $35 a week. Until last week when my Osteo informed me that ACC had declined to fund their part of the treatment. I now owe my Osteo $75 for the 3 treatments that  I had after ACC decided they were not going to keep funding treatment but didn't bother to tell me or the Osteo. If I want to continue Osteo I have to find $60 a week now.
But see above, I don't have $60 spare a week. ACC does not even come close to restoring me to what I had before I was the victim of an accident.
So it is back to being a curled up ball of pain with no life or being completely fuzzed out on drugs.
Did I mention that continually taking the drugs (before I discovered osteo) irritated my stomach and caused so much pain to my stomach that I was admitted to hospital last year?
Apparently this decision makes sense to someone in ACC.
How does one quantify the mental costs? The stress, the cost to my family, my children not having me able to  actively participate in the physical aspects of their lives, knowing I will probably never be able to do the sport I love again?
But that's not all. Then there are the battles with ACC.
They are trying to get me off their books. Now I get that. People bludge, make claims they are not entitled to and ACC needs to work out who should be on their books and who should not. However, when you have someone on your books who is in the constant, intense pain I am in, who has their life as altered as mine is, who has doctors and specialists and osteos and physios and everyone who has examined them singing the same tune, that should tell you something. That should tell you that paying a consultant to come around to that person's house and spend two hours plus with them and then go away and write up a report stating what potential jobs that person could do if they went back to work is a tad premature. Especially when that person is but 2 papers away from having a law degree as obtaining the law degree dramatically changes the types of jobs that person will be able to do. But no, after ACC did this they then sent me to their own specialist, just yesterday, to get him to agree that I could do said recommended jobs.
They told me that if he said I could work 35 hours (30 hours under the new changes) then I would lose the 80% of my wage that ACC pay me and if in fact I couldn't work that I would get sickness benefit instead (considerably less than 80% of my wage). Thankfully, the specialist on meeting with me agreed that it was extremely premature for me to be seeing him to discuss work options given the pain levels and almost seemed embarrassed at having been put in this position by ACC when it was so obvious – I have an outstanding MRI result that I have the scans for but not the result, that may or may not rule out more surgery and the pain clinic has just accepted me for their program but I am yet to do it – that I am a long way away from being able to work.
The taxpayer footed the bill for all of the above and it was not only unnecessary but extremely worrying for us. An example of ACC working to a time-formula rather than on the file facts.
Even more worrying is that under the proposed new changes ACC will not have to factor in my former salary level.  In the meeting with the consultant who looked at my job skill set, the fact I knew how to make coffee and run a restaurant meant that things like waitressing, barista work, etc came up. I knew how to do these things from the crap jobs that one picks up when one is a student or is going through rough patch but I hated those jobs. I absolutely never want to have to do though sorts of jobs again. I worked hard and gained skill sets and then gained a job that I loved that was using those new skills precisely so that I did not have to do, what I viewed as, crap jobs. Further it is not my fault that I lost that job. Thankfully a policy existed that meant that ACC could only push me towards jobs that paid within the ball-park of my previous job and used my skill-set so the risk of having to take a crap job in the event I recovered was minimised.
However that policy is about to be axed.
Amongst National's proposed changes to ACC is the removal of that policy, if passed it will mean that if ACC find you a crap job using the skills obtained from you old after school job you have to take it, even if your pre-accident job was something much better paid and more prestigious and fulfilling. That is just not ok. It is not adequate compensation at all. If I was on unemployment benefit I would take any job I could get – in fact being unemployed is precisely how I came to get cafe and restaurant experience in the first place, I did take any job I could get. But this is different. I am not on welfare, I am on ACC.
Then there is the home help thing. We have 4 kids. Two of our kids, our boys, have disabilities (Aspergers Syndrome and as-yet-undiagnosed-but-diabolically-behaved). Matt has this  year gone off to teachers training college so he can get a post-grad diploma in teaching (more state bollocks but that's another post) so he can improve his chances of obtaining full-time work and get our family back above the bread-line – so he is not  home much. Mon-Fri I am at home with our 8 and 9 year olds who are homeschooled largely because of the undiagnosed condition of the youngest. I cannot do dishes, washing (we do 1-2 loads per day), vaccuming, mopping, picking up, etc. Matt and Sherry (17 year old at Uni) get home frequently, after dinner, and then have assignments and study to do as well as helping as much as they can with housework.
ACC were giving me 6 hours a week home help to stay on top of those day-time things which meant that if Matt and Sherry got stuck into the rest around their studies we could keep on top of our housework. ACC mysteriously slashed my home help, to 2 hours a week. When I protested it I got given a review. The reviewer was really harsh. She kept saying that ACC will only pay for washing to be done once a week, vacuuming once a week, etc – though no policy proving that was shown to me and when I asked "well how did I used to get 6 hours a week, has been a policy change?" this was dodged. She kept saying other people cope, you have a husband and two teenagers they should be helping. When I pointed out that they are, that they are permanently exhausted from all they do and I feel like a bad mother for the amount Sherry helps with yet my house is still a mess as they are leaving the house at 6.30am and coming home after 6pm with assignments and doing what they can but it is not enough, also that  our 14 year old has Aspergers Syndrome and just panics and goes loopy if he is asked to do much more than a batch of dishes, he has a mental condition, it is not reasonable to expect too much from him.  In response to this, the assessor ACC sent around told me, get this, that my 8 and 9 year olds should be doing all the washing, vacuuming, dishes, etc! Unbelievable! I would, justifiably, have CYF on my doorstep if took that advice. I'm all for encouraging the kids to help out – it is part of being a family, it is how one learns to do these things for adult life but pulling the slack left by an adult incapable of running the house is going beyond too far for most, let alone 8 and 9 year olds!
Once I am free of exam and research I am going to do a massive appeal over this, a heap of energy expended fighting for something I shouldn't have to fight for, but in the mean-time don't visit because my house is a tip – I am horribly embarrassed by it but short of hurting myself or treating my young children like slaves or having Matt and Sherry give up sleep – they are both exhausted – there is not much I can do about it. It is again ridiculous and another example of lousy cover. There were no medical indicators to support their decision to slash my home help, my specialist, the specialist ACC  sent me to yesterday and my GP agree that I need a good 4-6  hours a week home help but ACC will not listen to them.
If you think I am starting to sound like a bludger who wants to get picky whilst resting on the taxpayer I remind you that ACC is not welfare, it is compensation, it is supposed to restore me to my pre-accident life because, due to no fault of my own, I was a victim of someone else's negligence.  This policy will fall well short of that goal. If I am made to go waitressing our family will have to take a $30,000+ drop in pay and I'll be stuck with a mind-numbing, dead-end job. Why? because I lawfully stopped at a traffic light and the state has set up the law so that the person who injured me was allowed to just walk away, I cannot sue and we are all penalised so hard via taxation that only the wealthy can afford to pay twice and get private accident insurance? How is that just?
I am not saying that I don't think I should have to go back to work, when/if I am recovered and able to unless I have a job every bit as excellent as the job I had before the accident (that is probably unrealistic as I had it very good) but it is reasonable to want something close surely? To want something at least in the ball-park pay wise and with a future attached it it? Is that asking too much given that several years of pain-hell will have passed before I ever/if I ever get to that point?
If ACC cannot provide good support and restore people to something at least resembling the victim of an accident's pre-injury life then it needs to be axed and handed over to the private sector. It cannot, see above, so axe it now.
To those of you insisting it remain state owned and protesting raises in levies ask yourself, how would you cope if you  were injured and were in my situation? Your career cut-off, your income slashed, the treatment options that were working now just out of reach and your future bleak? Is it worth the socialist-joy of knowing that "we own it"?
A better question, if you had to pay for accident compensation and you had the money to do so would you choose a company who gave the cover as outlined above or would shop around?
Tags: ACC · Car Accident · Disc Replacement Surgery68 Comments