Not so long ago Apologetics 315 ran an essay series on the topic Is Christianity True? Twenty-three apologist bloggers contributed, Matt's essay "Showing Christianity is True" was selected to be the concluding essay in the series, before Brian Auten's conclusion.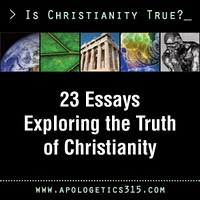 At the time, an audio version of each essay was created and the series was turned into a podcast. Now, Apologetics 315 have made the series available as a free ebook entitled, "23 Essays Exploring the Truth of Christianity."
Kindle Version | Mobi | ePub| PDF.
Chris Reese – Foreword
Brian Auten – Introduction
Tawa Anderson – Does God Exist?
Jim Wallace – The Best Explanation
Wes Widner – Coherent, Consistent & Livable
Richard Gerhardt – The Failure of Naturalism
Bob Perry – Defrocking the Priests of Scientism
Peter Grice – Orthogonal Complexity
Chad Gross – Cumulative Reasons for Christianity
Shelby Cade – Prophecy and Resurrection
Luke Nix – Making Sense of the Resurrection
Aaron Brake – The Facts of the Resurrection
Amy Hall – The Historical Event of the Resurrection
James Patrick Holding – The Impossible Faith
Stephen J. Bedard – Christianity and Other Ancient Religions
Anthony Horvath – Christianity Proved by the Nature of the Jewish Nation
Mariano Grinbank – The Euthyphro Dichotomy
Marcus McElhaney – Christianity is Objectively True
Vocab Malone / Paul D. Adams – The Gospels Tell Me So
Glenn Hendrickson – Christianity Explains Logic
Brian Colón – Atheism: A Falsified Hypothesis
Kyle Deming – Testing Christianity's Core Truth Claims
Matthew Flannagan – Showing Christianity is True
Brian Auten – The Wise Man Seeks God
H/T: Thinking Matters
Tags: Aaron Brake · Amy Hall · Anthony Horvath · Apologetics · Apologetics 315 · Bob Perry · Brian Auten · Brian Colon · Chad Gross · Chris Reese · eBook · Glenn Hendrickson · James Patrick Holding · Jim Wallace · Kyle Deming · Like Nix · Marcus McElhaney · Mariano Grinbank · Paul D Adams · Peter Grice · Podcast · Richard Gerhardt · Shelby Cade · Stephen Bedard · Tawa Anderson · Vocab Malone · Wes Widner6 Comments