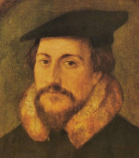 Thanks go to Matthew Flannagan for pointing me in the direction of this response to the problem.
A while back Professor Randal Rauser issued a blog entitled "Calvinism and the Arbitrary Camp Director" in which he criticised the Calvinist understanding of election.
For those of you who are unaware of the Calvinistic understanding of election, very roughly, it's the idea is that God elected some for salvation and did not elect others for salvation. Now obviously there's FAR more to Calvin's doctrine of election than merely the claim that some are elected and others are not. But that at least, is the centre point of Rauser's criticism, and more particularly, it's that element of Calvin's doctrine that I seek to defend in this article.
Before we begin, it's interesting to note that barely three months ago I was a staunch Arminian when it came to soteriology. I reacted against Calvin's doctrine with the greatest of revulsion. How could it possibly be, I thought, that God could be "good" and yet actively choose some for salvation while leaving others to die?! It made no sense to me! In-fact, I remember going to scripture one Sunday morning actively seeking to find that knock down scriptural blow against the Reformed understanding of election. Interestingly, the first scripture I read was the parable of the wheat and the tares Matthew 13:24-29/13:36-43. While I read it, it struck me that this challenged my Arminian understanding of Salvation. But I didn't want to believe it, so I left it for a week hoping that there would be some other explanation. But none was forthcoming. Very quickly I found myself speaking in terms that a week earlier I would never have been revolted to hear myself say. I was not yet a practicing Calvinist. I was what you might call "soteriologically agnostic".
Now the reason I say this is not because I hope to establish myself as any authority on the matter. To the contrary, Rauser, being a Professor of Historical Theology at Taylor Seminary is far more of an authority on the matter than I can hope to be at this stage of my life. So it's with much fear and trepidation that I dare post this article contradicting Rauser's arguments. So why do I give my testimony of how I came to Calvinism? Well I myself am a little unsure. Nevertheless, I suspect that the main reason I give such testimony is that I find it and irony worth sharing that I am writing an article that barely three months ago I would never have even dreamed of writing. If I was going to write anything, it would have been about how Calvinism completely destroys any sensible understanding of God's justice and love.
But now let's get down to business. Precisely what is Rauser's objection? More than anything else, it appears to be a moral objection. The problem, Rauser urges, is that it makes God's choice about who save entirely arbitrary. Why, he asks (referring to one of his dialectic opponents apparently named Tom) should God bring glory to him (Tom) and not another say Saddam Hussein? This picture, Rauser asserts, completely undermines the idea that God is loving. In order help us to see this point. Rauser entreats us to consider the following illustrative analogy:
"Imagine that there is a camp for troubled youth. The camp director has a rather unorthodox method of dealing with the campers. Some of them are beaten severely with whips in a wholly punitive or retributive (i.e. not restorative) manner while others are chosen by the director to receive care, love and nurture in a way that restores them.

You are contemplating sending your child to the camp but you want your child to be lovingly restored, not viciously beaten, even if the beatings are just. So you enquire: what is it that makes the director decide to beat the children rather than nurture them? Is it the nature of their crimes? Their race? Gender? What?

The answer comes back. There is absolutely nothing that differentiates the two groups. The bottom line is that for some inexplicable reason the director arbitrarily selects some children to be beaten and others to be nurtured.

Now imagine that somebody came up to you with a positive testimonial. "The director loved our child! He nurtured her. She's much better now. He is very loving to those he chooses." Wouldn't you want to scream back "But what about the children he opts to beat? How can you call that loving? How can you focus only on those he nurtures and completely ignore those he beats? Doesn't it bother you that his choice to nurture your child was wholly arbitrary?"
What Rauser neglects to include in his analogy, and truthfully it's essential, is that humans do not deserve salvation. The Calvinist maintains that (in virtue of our Total Depravity) morality and/or justice does not impose on God a duty to save us from death. As such, if God is to save us, it is totally unmerited in all senses of the word. It goes, as it were, beyond the call of duty, and is as such, "supererogatory". That is to say, it might be a nice deed for God to perform, but there is no obligation/duty on Him to do so. If it's the case that any salvific work that God does is "supererogatory" in this sense, then it cannot be said that there's any injustice associated with picking some and leaving others. Suppose by way of illustration, that some person S has many brothers. Suppose furthermore, that S (out of the goodness of his heart) decides to gift some money to but one of his brothers. Since S was under no obligation to give ANY of his brothers (let alone the one he actually gave it to) any money at all, there's no injustice or objective unfairness in S benefiting one brother and not benefiting others. None of S's brothers had done anything that placed a duty on S to provide his brothers with money, and nor was there anything about S' brothers which meant that they were intrinsically deserving of the money. In a similar way, the Calvinist holds that because of our sinful nature, there is nothing about us or the way we act which means that we deserve salvation. Hence God has no duty whatsoever to save us. That God has no such duty entails that there is no injustice associated with God saving some and not others.
It is the fact that we don't deserve salvation that Rauser unfortunately fails to include in his analogy. I have no doubt that he attempted to include this in the analogy (the fact that the children are referred to as "troubled" is indication enough), nevertheless it strikes me that what does most of the work in producing the intuition that the camp director's actions were unjust, is not so much the fact that his actions were "arbitrary", so much as that the children were not deserving of such treatment. As much as Rauser attempts to include in his analogy the un-deservingness of the children, he does not succeed. Troubled children, we perceive, are never so troubled and don't commit crimes so horrific as to deserve the treatment they receive at the hands of the camp director in Rauser's illustration. To the contrary, we are inclined to think that the children deserve better treatment. In Rauser's analogy then, there is a duty on the camp director to treat the children in a more appropriate manner. It's this that the injustice of Rauser's analogy consists in. Not, as he asserts, the mere arbitrariness of the camp directors choice.
By failing to incorporate this aspect into his analogy, Rauser assumes what the Calvinist about election already denies, namely that we are deserving of salvation, and that God has a corresponding duty to save us. So in an important sense, Rauser assumes the falsity of Calvinism in an attempt to show its falsity. To put a long story short, he begs the question against Calvinism.
I am given to understand that Randal Rauser is a prolific blogger, and I sincerely hope for his response.
Tags: Arminianism · Calvinism · Circular Reasoning · Election · Ethics · Evangelical Christianity · Philosophical Theology · Randal Rauser · Salvation · Soteriology · Supererogation · Systematic theology · Theology77 Comments