I have a few snaps of Matt in Atlanta, this first one had our kids excited when they saw it [which should tell you everything you need to know about just how much Matt is a fan of Dr Alvin Plantinga – LOL!]
Fellow kiwi Rodney Lake of Thinking Matters Tauranga, also in Atlanta attending the conferences, took the above photo and wrote on Facebook of it:
Tonight I met and chatted with simply the greatest collection of Christian thinkers the world has to offer – hands down – without a doubt – the best! You couldn't put together a better bunch in the same room than this. There were others, but the ones I got to talk to included: Alvin Plantinga, William Lane Craig, Mike Licona, JP Moreland, Paul Copan, Craig Hazen, Frank Beckwith, Mary-Jo Sharp and of course Matthew Flannagan. Also earlier in the day shook hands with Gary Habermas and Greg Koukl. A day to remember…
Rodney has been doing a tour around the US over the last few weeks of the various Apologetics ministries and has been meeting up with various biblical scholars and Christian philosophers. You can read about what he has been up to and who he's been trying to talk into coming out to New Zealand on his blog.
Jim West snapped this one, Matt the kid in the candy shop – surrounded by the worlds best in his field and their books!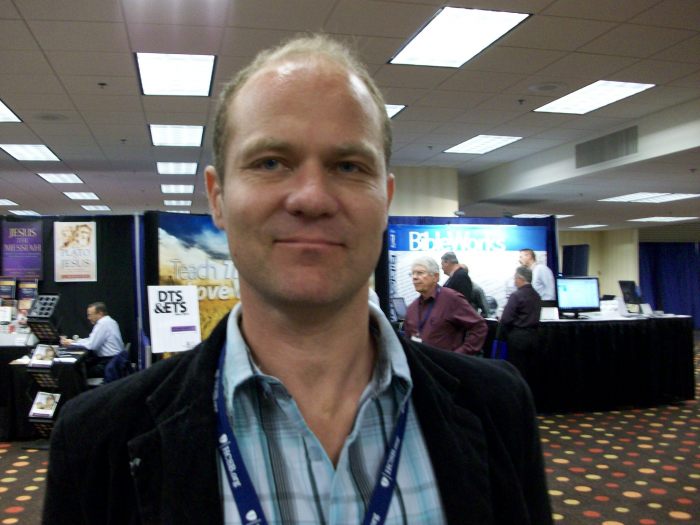 Jim has been quite the tourist, he's been snapping everyone and everything by the looks of his homepage.
I just talked to Matt on Skype – we are so grateful to the kind and generous people who donated us Skype equipment – he said it is quite surreal to be wandering around, sitting in seminars and recognising all these philosophers and theologians whose works he has read and admired all around him. He said the conversations following each session are very stimulating; everyone understands the topics, it is a lot like being at a Philosophy department seminar, only everyone is coming from a Christian perspective – which is something Matt is just not used to but is really appreciating. He said that MandM is clearly more widely read than either of us realised as plenty of people recognised him and complete strangers asked after me, commented on our blog and so on. The internet clearly makes the world a small place! Anyway he is having a blast and is doing great.
Tags: Alvin Plantinga · Atlanta · Craig Hazen · EPS · Francis Beckwith · Georgia · JP Moreland · Mary-Jo Sharp · Mike Licona · Paul Copan · Rodney Lake · SBL · William Lane Craig24 Comments