Mon 1- Friday 5 August marks Jesus Week. A number of events will be held on the University of Auckland campus of which we are part of including this one brought to you by the Evangelical Union and Thinking Matters: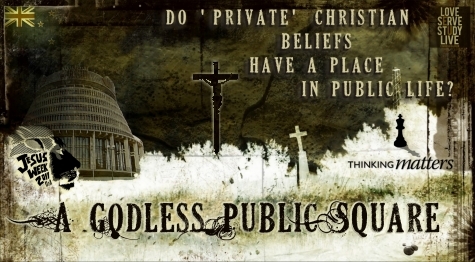 A Godless Public Square:
Do 'Private' Christian Beliefs Have a Place in Public Life?
A Jesus Week Panel Discussion
7-9pm Wednesday 3 August
Lib B28 (Library Basement) University of Auckland
Christian theological convictions ought to impact the whole of life both in the private and public spheres; this is what the idea of an "undivided life" means, Jesus is Lord of all aspects of our lives.
Yet this consequence of Christian faith conflicts with a pervasive contemporary attitude: the view that that religion is fundamentally a private matter. It is accepted that a Christian is free to utilise theological convictions when they make decisions about their own life but in a pluralistic society it is increasingly deemed inappropriate to bring such convictions into public discussions about morality, law, politics, economics, education, scholarship and so on. The desire to influence society with Christian ideals or to convert others to the faith is viewed by many as an intolerant desire to impose one's private views onto others.
It is widely accepted that theological convictions can govern churches and the private lives of believers yet we are told that the public square – government, public policy, the courts, the academy, education, business, arts, media, etc – should be secular only.
This event looks at this issue. The conversation will span Theology, Philosophy and Law led by a panel made up of Christian representatives from each discipline along with you the audience.
Up for discussion are issues like:
– Is it wrong for Christians to impose their 'private' religious beliefs onto others?
– Is secularism the neutral perspective it is claimed to be?
– Are public expressions of religion regulated by law?
Bring your own questions and ask them at the Q & A session.
This is a free event open to the public, which will be lay friendly – a university degree is not necessary in order for you to attend!
Panel:
Moderator:
RSVP on Facebook here (or just turn up with your friends)
Tags: Evangelical Union · Glenn Peoples · Jesus Week · Religion in Public Life · Thinking Matters8 Comments