Co-authored by Matthew and Madeleine Flannagan
The late Philosopher Richard Rorty once described religion as a "conversation stopper", something that polarises discussion and ends or prevents fruitful dialogue. Rorty was an advocate of,
"the happy, Jeffersonian compromise that the Enlightenment reached with the religious. This compromise consists in privatizing religion — keeping it out of … "the public square," making it seem bad taste to bring religion into discussions of public policy."
The view that the public square – the legal system, economy, public education system, politics and so on – should be secular is now standard in contemporary political theory. When making decisions about their private conduct religious believers can utilise religious reasons in but in public they are morally bound to bracket their beliefs about God and appeal only to secular considerations.
In an earlier column, "Secularism and Public life", Matthew criticised this position. He pointed out that a growing number of scholars working in philosophy, political science and law are calling the defensibility of this position into question. We will not repeat those points here instead we will address one interesting feature of Rorty's comment above; Rorty referred to his position as "the … Jeffersonian compromise."
In doing this he reflected a trend that began in the US the mid to late 20th Century and has spread around the Western World. The First Amendment of the United States (US) Constitution asserts that "Congress shall make no law respecting an establishment of religion, or prohibiting the free exercise thereof; …". In a letter to the Danbury Baptists in 1802, US Founding Father Thomas Jefferson stated that this amendment established a "wall of separation" between church of state. In the mid 20th century the US Supreme court argued that on the basis of Jefferson's comments the US Constitution required the "separation of church and state". This was then interpreted to mean that the US Constitution demanded a secular public square, religious ideals and beliefs were not to be allowed in public life.
It won't be news to anyone who has watched any US television shows to hear that the Supreme Court has interpreted the First Amendment to mean that religious instruction, prayer, references to God, displays of the 10 Commandments, nativity scenes — even where participation is voluntary — are banned from public institutions.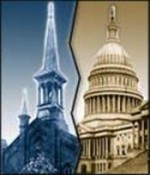 When Rorty referred to his position as "the Jeffersonian compromise" he was alluding to this line of argument. It is an argument we have heard over and over: because our society has a separation of church and state, we are committed to having a secular public square. If one opposes a secular public square and believes, as we do, that religious beliefs should influence public life then one gets accused of denying the separation of church and state.
We think this inference is wrong-headed. It confuses the separation of two institutions, the church and state, with the separation of religion and public life. These are not the same things.
To understand separation of church and state some history is necessary.
Prominent legal scholar, Steven D Smith, observed that the church-state relationship, which would have been familiar to an eighteenth century American, was one where "governments controlled or directly intervened in the internal affairs of churches, and churches claimed and were formally endowed with governmental powers." He elaborated that,
"Since the middle ages, scholars and polemicists of all stripes had argued-on both religious and political grounds-that the church should exercise control over the state or-again on both religious and political grounds-that the state should control the church. The common view for centuries had been that an established church was essential to political and social stability. …

In medieval Europe, for example, kings had claimed, and had exercised, the power to appoint bishops and popes. After the Reformation, the British monarch became the official head of the Church of England, and British government assumed control over both the selection of ecclesiastical officials and the formulation of religious doctrine.

Medieval popes regularly crowned earthly emperors and kings, and they claimed (and frequently purported to exercise) the authority not merely to excommunicate but actually to depose those kings. Popes sometimes asserted jurisdiction to adjudicate what were essentially political or property disputes. In England, the Church enjoyed-and still enjoys-official representation in Parliament. Immigrants later imported established churches in some form into most of the American colonies."
Separation of church and state is the idea that the church should not be formally endowed with governmental powers and that the state should not try to intervene in or control the church. Now many people (including we, the writers) accept this. We do not believe that the government should set up an official state church or have any say in the liturgy, theology, choice of ministers and so on in established churches. Nor do we think that churches should be granted state powers, the right to hold seats in parliament, the ability to pass legislation, prosecute or tax people and so on. We wholeheartedly accept the separation of church and state.
However, separation of church and state is not separation of religious beliefs from public life – perhaps this confusion arises because both concepts have the word "separation" in them. Church and state are formal institutions; public life is not an institution nor is a religious belief an institution. To assert, as so many commentators do, that separation of church and state commits us to a secular public square is to offer a non-sequitur.
Some examples will illustrate this point. Suppose New Zealand were to allow the establishment of a completely private university; this university would not be an official state university, it would not be endowed with any political status nor would it does it hold any judicial, legislative or executive powers. The government would not choose its employees or its curriculum and the scholars within it would have total academic freedom. If this were to occur we would say there was an institutional separation between the state and this university.
Now, imagine that the science department at this university did some important research; perhaps it discovered that a certain government policy in practice has harmful effects on the health of citizens. Would the fact that this was a private university mean that the government should ignore this information? After all, there is a total separation of university and state in play.
The answer is obvious: no; the government should pay attention to this study. The fact that there is an institutional separation between the university and the state does not mean that the ideas the university discovers and teaches should be excluded from public life. Separation of institutions is one thing, separation of the ideas an institution expounds from public life is something else. It would be ridiculous, and a tad paranoid, to argue that anyone who takes the research of a private university seriously and exhorts politicians to take it into account must, of logical necessity, support investing the university with political power and making it into a state run and controlled institution.
If this example is too abstract, we can think of plenty of others. Consider the large number of voluntary organisations that exist quite independently and autonomously from the government. Many have a profound influence on public life in terms of their impact on culture, education, media, and so on. Voluntary organisations of this sort often lobby successfully for various polices, provide valuable critique and insight on all manner of social and cultural issues.  These examples show that an organisation's institutional autonomy is entirely compatible with the organisation's ideas having an importance influence on public life.
So, separation of church and state does not entail that the public square should be secular and devoid of religious or theological influence unless it also entails that no institution or organisation not under state influence or control must also be kept from public life.
The idea that the US Congress meant something more than mere separation of church and state when it passed the First Amendment – that it meant secularism – was birthed in the mid to late 20th century, some 200 years after the Amendment's passage, by the US Supreme Court when it began to hear cases about school prayer and complaints over the funding of Catholic schools.
Of course, it may be politically useful for proponents of secularism to conflate the two. Undoubtedly, the false dichotomy between a secular public square and a society where the church exercises judicial and legislative power over its citizens is rhetorically powerful. But like many rhetorically powerful pictures it lacks accuracy. If the secular public square is to stand as a defensible position it needs to be based on fact, not verbal sleight of hand.
Matt writes a monthly column for Investigate Magazine entitled "Contra Mundum." This blog post was published in the September 2011 issue and is reproduced here with permission. Contra Mundum is Latin for 'against the world;' the phrase is usually attributed to Athanasius who was exiled for defending Christian orthodoxy.
Letters to the editor should be sent to:
editorial@investigatemagazine.DELETE.com
RELATED POSTS:
Contra Mundum: Consenting Adults and Harm
Contra Mundum: Pacifism and Just Wars
Contra Mundum: Religion and Violence
Contra Mundum: Stoning Adulterers
Contra Mundum: Why Does God Allow Suffering?
Contra Mundum: "Till Death do us Part" Christ's Teachings on Abuse, Divorce and Remarriage
Contra Mundum: Is God a 21st Century Western Liberal?
Contra Mundum: In Defence of Santa
Contra Mundum: The Number of the Beast
Contra Mundum: Pluralism and Being Right
Contra Mundum: Abraham and Isaac and the Killing of Innocents
Contra Mundum: Selling Atheism
Contra Mundum: Did God Command Genocide in the Old Testament?
Contra Mundum: Fairies, Leprechauns, Golden Tea Cups & Spaghetti Monsters
Contra Mundum: Secularism and Public Life
Contra Mundum: Richard Dawkins and Open Mindedness
Contra Mundum: Slavery and the Old Testament 
Contra Mundum: Secular Smoke Screens and Plato's Euthyphro
Contra Mundum: What's Wrong with Imposing your Beliefs onto Others?
Contra Mundum: God, Proof and Faith
Contra Mundum: "Bigoted Fundamentalist" as Orwellian Double-Speak
Contra Mundum: The Flat-Earth Myth
Contra Mundum: Confessions of an Anti-Choice Fanatic
Contra Mundum: The Judgmental Jesus
Tags: Contra Mundum · First Amendment · Investigate Magazine · Separation of Church and State · Separationism · Steven Smith · Thomas Jefferson · Wall of Separation87 Comments