New Zealand motorists will have noticed a new genre of advertising billboards, those attempting to sell the concept that there is probably no God. These billboards are the collective efforts of the New Zealand Atheist Campaign, The Humanist Society and the New Zealand Association of Rationalist Humanists. Like all advertising campaigns, these billboards offer clever-sounding slogans, which are indicative of the philosophy of the seller – in this case three variants of popular 'new-atheist' arguments. Like any consumer, I want to read the product labelling a little deeper before I consider buying. So here I intend to unpack the slogans and take a look at the implicit reasoning behind each.
Each billboard has the tagline "There's probably no God. Now stop worrying and enjoy your life." My first thought on seeing this was that authors must find atheism psychologically liberating. We do not have to worry that there is a God and that means that we can enjoy ourselves but why would the existence of God be something to worry about? Is it the moral accountability that goes with it? If God exists then we might have to worry that He has seen what we have done in secret, and being free from this worry enables us to enjoy our lives. If this is so then prima facie this suggests that guilt is a major motivation behind, at least some peoples, atheism.
The tagline aside, let's look at the three slogans currently affronting us as we navigate our cities. The billboard on Auckland's Newton Rd states, "Good without God? Over One Million Kiwis Are. Source:2006 Census."
Here we are told that one million kiwis are good without God because the census says so. Now a lot could be said about the appeal to the census here, I don't recall a question on it asking me if I was good and even if it did I am not sure that we should take too much from self-reported assessments of people's own integrity. Let's assume, however, that the billboard makes a fair claim. The inference is still is fallacious. What the census shows is not that one million kiwis are good without God, rather, it shows that one million kiwis are good without believing in the existence of God. But to say that one can be good without believing in God is not the same as saying that one can be good without God. Many people throughout history have been able to live and breath without believing in the existence of hydrogen and oxygen atoms yet it does not follow that they could live without hydrogen and oxygen.
I am still left wondering how the fact that people do not need to believe in something to do good deeds renders the belief false? For centuries people have done good deeds and lived good lives without believing in heliocentricism or quantum mechanics, should we conclude that these theories are therefore 'probably false'? Surely we are not being asked to buy that the basis of our beliefs should be what is useful or helpful as opposed to what is true?
Perhaps the sellers mean to convey something else. Some Christian thinkers such as William Lane Craig, Robert Adams, Stephen Layman, Alvin Plantinga, John Hare and Philip Quinn have argued that moral properties such as right and wrong depend on God for their existence. Atheist writers such as Paul Kurtz and Christopher Hitchens retort that this claim is falsified by the existence of morally upright atheists. I suspect something like this is meant by the slogan on the billboard, it repeats Hitchens' and Kurtz's retorts as though they said something insightful or clever.
This retort misses the point. Craig, Adams, et al are not claiming that one needs to believe in God to be good – a point made several times in the literature (and particularly made so many times to Kurtz that it beggars belief that he keeps repeating it) rather, their claim is that moral properties, such as right and wrong, depend on God for their existence. This is not the same thing, we know that water depends for its existence on the existence of hydrogen and oxygen, this does not mean, however, that we need to believe in the existence of hydrogen and oxygen in order to effectively recognise and use water. Ancient and medieval people were drinking, washing in, swimming in and sailing on water centuries before the discovery of contemporary atomic theory.
This is a fairly basic and elementary distinction in the literature. How exactly expressing a common philosophical confusion counts as reason for thinking "there probably is no God" is hard to see.
Parnell Rise's billboard informs us "In the Beginning Man Created God."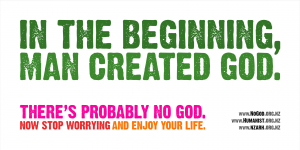 This one asserts that man created God. Now if one takes this statement in an absurdly literal manner (the way many sceptical organisations approach parables, hyperbole and poetry in the Bible) we find that atheists are telling us that God actually exists. I have no issue with the slogan at this juncture, however, the idea that God was created by human beings is clearly absurd. God is typically defined as an all-powerful, all-knowing, immaterial, necessarily-existent being who created the world and who sustains everything in it. Now if one is going to claim that humans actually created an all-powerful, all-knowing, immaterial, necessarily-existent who created and sustains the world, then they are contradicting themselves. Humans are part of the world and therefore cannot have created the being that created the world – otherwise humans would have to exist prior to their own existence.
Of course to interpret this billboard in this way would be uncharitable. The authors of this billboard probably do not mean to say that humans actually created God, they do not think He exists after all. Their claim is that humans created the idea or concept of God and developed it. This is undoubtedly true. Of course, humans also invented the idea or concept of atoms as well – ancient Greek philosophers came up with the basics of this concept millennia ago – but this fact tells us nothing about whether or not the idea or concept humans developed actually corresponds to anything in reality. To assume that it tells us something about whether the idea or concept is true is a fairly obvious case of what logicians call the genetic fallacy.
The last one is my favourite, "We Are All Atheists About Most Gods. Some of Us Just Go One God Further."
To see the problems with this slogan take out the term "God" in the sign and replace it with some other term such as "non-Christian perspective." When we do this we get: "We all reject most non-Christian perspectives, some of us just reject one more." This argument has true premises, do we now have, a knock-down argument for Christianity?
Similarly, an analogous argument form with true premises gives us an argument for nihilism, the denial that humans have moral duties, the total denial of the existence of morality. "We are all nihilists about some conceptions of morality, some of us are just nihilistic about one more."
The same argument for also furnishes a refutation of secularism, "we all reject some secular perspectives on reality, some of us just reject one more." I could go on.
Taking a stand on any issue of philosophical substance, whether by affirming, denying or simply being sceptical of it, is to put oneself in opposition to any number of other people and groups who take a contrary stance. That's life. Such pluralism hardly provides a reason for thinking "there probably is no God" any more than it gives us a reason to doubt any other perspective on the world.
So what do the atheist billboards do? Well the first one tells us that some atheist groups conflate basic philosophical distinctions and do not really understand the debate they are contributing to. The second shows us that these groups think contradictions and obvious fallacies are some how savvy and smart. The last shows us that they think that invalid argument forms, forms from which you could infer the denial of anything and everything by substituting one true premise with another, are avant-garde. All in all, pretty accurate advertising for these groups.
I write a monthly column for Investigate Magazine entitled Contra Mundum. This blog post was published in the Sept 10 issue and is reproduced here with permission. Contra Mundum is Latin for 'against the world;' the phrase is usually attributed to Athanasius who was exiled for defending Christian orthodoxy.
Letters to the editor should be sent to:
editorial@investigatemagazine.DELETE.com
RELATED POSTS:
Contra Mundum: Did God Command Genocide in the Old Testament?
Contra Mundum: Fairies, Leprechauns, Golden Tea Cups & Spaghetti Monsters
Contra Mundum: Secularism and Public Life
Contra Mundum: Richard Dawkins and Open Mindedness
Contra Mundum: Slavery and the Old Testament
Contra Mundum: Secular Smoke Screens and Plato's Euthyphro
Contra Mundum: What's Wrong with Imposing your Beliefs onto Others?
Contra Mundum: God, Proof and Faith
Contra Mundum: "Bigoted Fundamentalist" as Orwellian Double-Speak
Contra Mundum: The Flat-Earth Myth
Contra Mundum: Confessions of an Anti-Choice Fanatic
Contra Mundum: The Judgmental Jesus
Tags: Atheism · Contra Mundum · Investigate Magazine · NZ Atheist Campaign · NZARH · The Humanist Society133 Comments