On the way back from Bloggers drinks we drove past one of the controversial atheist advertising billboards, put up by NZ Atheist Campaign, The Humanist Society and NZARH, which have appeared around Auckland. This appears to have come on the back of the Richard Dawkins inspired bus advertising that made headlines earlier this year. It is worth fisking them a bit.
Here is a pic of the first one.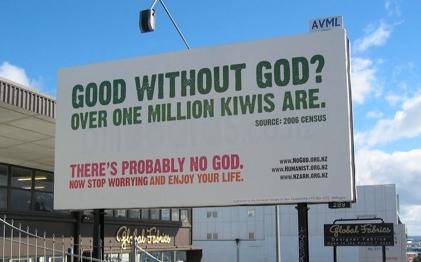 Here we are told one million kiwis are good without God because the census says so. This, however, is fallacious. What the census shows is not that one million kiwis are good without God, it shows that one million kiwis are good (although this is granting a lot for the sake of argument) without believing in the existence God. But to say one can be good without believing in God is not the same as saying one can be good without God. Many people throughout history have been able to live and breath without believing in the existence of hydrogen and oxygen atoms, it does not follow that they could live without water.
Moreover, it is hard to tell what the point of this sociological fact is anyway. Why does the fact that people do not need to believe in something to do good deeds mean that the belief is false? For centuries people have done good deeds and lived good lives without believing in evolutionary theory or quantum mechanics, should we conclude that these theories are therefore 'probably false'? Surely these atheists are not suggesting that our beliefs should be based on what is useful or helpful as opposed to what is true or false?
Perhaps the atheists here mean to convey something else. Some Christian thinkers such as William Lane Craig, Robert Adams, Stephen Layman, Alvin Plantinga, John Hare, Philip Quinn have argued that moral properties such as right and wrong depend on God for their existence. Atheist writers such as Paul Kurtz and Christopher Hitchens retort that this claim is falsified by the existence of morally upright atheists. I suspect something like this is behind the slogan on the billboard, it repeats Hitchens and Kurtz's retorts as though they said something insightful or clever.
The problem is, as any one familiar with this discussion should know, this retort misses the point (as I pointed out in On a Common Equivocation). Craig, Adams, et al are not claiming that one needs to believe in God to be good (a point made several times in the literature and particularly made so many times to Kurtz that it beggars belief that he keeps repeating it) rather their claim is that moral properties, such as right and wrong, depend on God for their existence.
This is a fairly basic and elementary distinction in the literature. How exactly expressing a common philosophical confusion counts as reason for thinking "there probably is no God" is hard to see.
Let's look at the next one.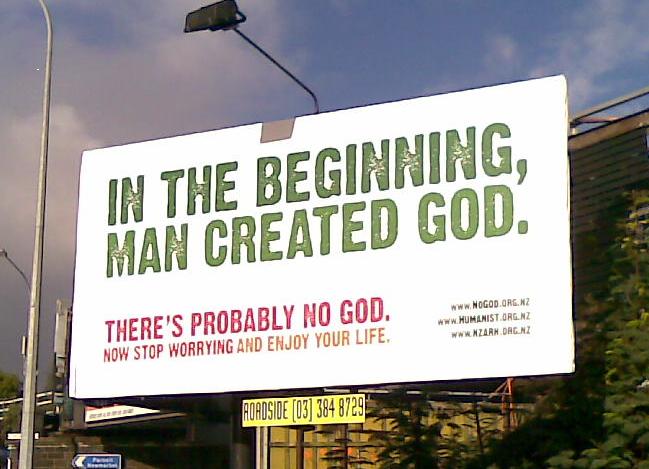 What is asserted here? That man created God. This, however, is clearly absurd. God is typically defined as an all-powerful, all-knowing, immaterial, necessarily-existent being who created the world. Now if one is going to claim that humans actually created an all-powerful, all-knowing, immaterial, necessarily-existent who created the world, then they are contradicting themselves.
Humans are part of the world and therefore cannot have created the being that created the world – otherwise humans would have to exist prior to their own existence.
Similarly, one cannot create a necessary being, this would entail it is possible for a necessary being to not exist, in which case it would not be a necessary being. Taken in a straight-forward, literal manner (the way freethinkers are so fond of taking every passage in the Bible) this billboard simply asserts contradictions.
Of course, the authors of this billboard probably do not mean to say humans actually created God, they do not think he exists after all. Their claim is that humans created the idea or concept of God and developed it. This is undoubtedly true. Of course, humans also invented the idea or concept of atoms as well, ancient Greek philosophers came up the basics of this concept millennium ago. This trivial fact tells us nothing about whether or not the idea or concept humans developed actually corresponds to anything in reality. To assume that it tells us something about whether the idea or concept is true or false is a fairly obvious case of the genetic fallacy.
So the second billboard either asserts a contradiction or it is a clear case of a logical fallacy.
The last one is my favourite.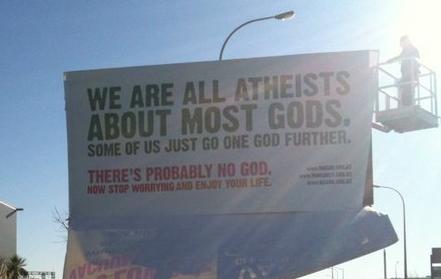 I am inclined to think the argument on this sign is invalid. To see why let's take out the term "God" in the sign and replace it with some other term such as "non-Christian perspective." When we do this we get: "We all reject most non-Christian perspectives, some of us just reject one more." This argument has true premises, do we now have, a knock-down argument for Christianity?
Similarly, an analogous argument form with true premises gives us an argument for nihilism, the total denial of the existence of morality. "We are all nihilists about some conceptions of morality, some of us are just nihilistic about one more."
The same argument for also furnishes a refutation of secularism, "we all reject some secular perspectives on reality, some of us just reject one more." I could go on.
Taking a stand on any issue of philosophical substance, whether by affirming, denying or simply being sceptical of it, is to put oneself in opposition to any number of other people and groups who take a contrary stance. That is life. Such pluralism hardly provides a reason for thinking "there probably is no God" any more than it gives us a reason to doubt any other perspective on the world.
So what do the atheist billboards do? Well the first one tells us that some atheist groups conflate basic philosophical distinctions and don't really understand the debate they are contributing to. The second shows us that these groups think contradictions and obvious fallacies are some how savvy and smart. The last shows us that they think that invalid argument forms, forms from which you could infer the denial of anything and everything by substituting one true premise with another, are avant-garde.
All in all, pretty accurate advertising for these groups.
Hat tip: MCAS
Tags: Alvin Plantinga · Bad Reasoning · Christopher Hitchens · John Hare · NZ Atheist Campaign · NZARH · Paul Kurtz · Philip Quinn · Richard Dawkins · Robert Adams · Stephen Layman · The Humanist Society · William Lane Craig430 Comments