On 1 May 2011 the world received the news that Osama Bin Laden was dead; gunned down in Pakistan by an elite team of US Navy Seals. Even before his death Bin Laden had become a legendary persona. Not only was he a terrorist leader responsible for the deaths of thousands of innocents but he functioned as a contemporary paradigm of the fanatical religious nutter who promotes hatred, violence and intolerance – much like the symbol Adolf Hitler was to earlier generations.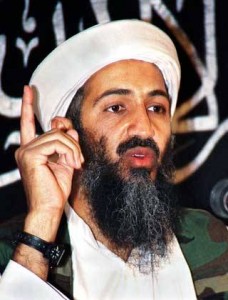 The 9/11 terrorist attacks reinvigorated a fear that has lain dormant in the western psyche since at least the 17th century. This fear is encapsulated in an objection to belief in God known as the argument from historical atrocities. Many critics of religion refer to the religious wars that tore Europe apart during the 17th century, citing events such as the Inquisition and Crusades — although lately the Taliban have been the image of choice.
Recently, whilst debating the viability of religious morality at the University of Notre Dame, best-selling author Sam Harris repeatedly cited the Taliban as a representative example of theological ethics. One need not read far into the literature of contemporary free thinkers to uncover this line of argument. Consider Jim Peron of the Institute for Liberal Values:
"To admit religion into the "public arena" is "dangerous." And long term the results will be just as bloody and violent as they were in the past. … To put religion into that sector is to ignore centuries of history and return to the conflict-ridden, bloody world of the Dark Ages."
Peron went on to refer to common motifs of the Inquisition: "crazy Puritans", Servetus' execution in Calvin's Geneva and so on. Similar themes abound in the writings of Dawkins, Harris and Hitchens. The citation of historical cases is not in itself an argument so it is hard to discern the exact objection here. It appears to consist of two claims. Firstly, that some people who believe in God have committed atrocities against other people. Secondly, that if people who hold a belief commit atrocities then that belief is either false or should be avoided by liberal-minded people.
Historians Ronald Numbers and David Lindberg point to recent research having discredited the portrayal of the early Middle Ages as "the Dark Ages" brought about by Christianity. Similarly, research into Inquisition archives reveal that while such tribunals did exist, many popular beliefs are based on embellishment, exaggeration and propaganda rather than a sober assessment of facts. The picture of the Inquisition that emerges from these studies is significantly more benign than has popularly been thought. Similarly, historian Leland Ryken's studies on the Puritans have questioned many of the popular stereotypes Peron referred to.
Take Peron's allusion to the execution of Servetus. In his study on the life of Calvin, Oxford Theologian Alister McGrath argues that Calvin's role in Servetus' execution has been greatly exaggerated and contends that such heresy prosecutions were not typical in Geneva contrary to the image popularly peddled by rationalists. McGrath has also relentlessly exposed several cases of outright distortion and myth perpetuated about the so-called "dictator" of Geneva. This is not to say that atrocities did not occur, nor that such atrocities should be justified, but it is important to be accurate and fair. The evidence suggests that much of what people believe today about religious history is based on discredited 19th century rationalist propaganda stereotypes and consequent cultural prejudice.
Perhaps more interesting is the second claim. While this claim is seldom made explicit, something like it is necessary if the existence of atrocities entails that belief in God is false or that religious belief and practice should be avoided.
Philosopher Glenn Peoples provides several counter examples to this claim. The belief that the atom could be split is one that has been used to kill thousands of people yet that belief is true and it is an important scientific discovery. The belief that theft is wrong has, in the past, led to the lynching of thieves. Does this show that theft is not really wrong and we should not oppose it?
Other examples illustrate the absurdity of this claim. The "reign of terror" during the French Revolution was justified by appeals to liberty, equality, fraternity and the rights of humankind; one victim of the guillotine famously remarked, "Oh, Liberty, what crimes are committed in your name". Millions have been slaughtered by appeals to the greater good of society or the liberation of the oppressed classes and it is well known that people have defended wars on the basis of justice and social peace. Should we therefore avoid liberty, equality, opposing oppression, seeking justice and social peace?
A third problem with the "argument from atrocities" is that an analogous argument can be used against atheism and secular philosophies. Millions have lost their lives in wars fought in the name of secular ideologies such as Communism — wars far more brutal and total than those that occurred during the Middle Ages. Millions have been killed in socialist states in show-trials every bit as hysterical and rigged as any witch trials were. And, as some medievalists have noted, with irony, the Committee for Public Safety in Enlightenment France was, in numerous respects, much worse than the Inquisition. If the fact that Christians engaged in historical atrocities entails belief in God is false or that religious belief is to be avoided then parity of reasoning entails atheism is false and that secular belief systems should be avoided.
At this point the sceptic will start to make qualifications. One rejoinder is that whilst atheists like Pol Pot, Mao and Stalin committed atrocities, these were not done in the name of atheism or due to their atheist beliefs. Religious atrocities, however, were committed because of religious beliefs.
However, such rejoinders fail. As Peoples explained, Stalin and Pol Pot persecuted religious groups precisely because they were atheists and saw religion as socially pernicious — the very thing people who press the historical atrocities argument are trying to contend. Richard Wurmbrand, a victim of communist persecution in Romania, stated that "communist torturers often said there is no God, no hereafter, no life after death, we can do what we wish." The fact that atheism was not the motivation for these actions seems to be news to those who actually witnessed them.
So, many atrocities were committed on the basis of atheism. The purported rejoinder also fails due to the fact that many atrocities cited by religious critics were not committed for religious reasons but for secular ones. Christopher Eberle and Terence Cuneo noted in the Stanford Encyclopaedia of Philosophy that the religious wars of the 17th Century were caused not by the appeal to religious reasons, per se, but rather by the violation of religious freedom. They noted further that even in the 17th Century religious persecution was typically justified on secular grounds,
"When such rights have been violated, the justifications offered, even by religious believers, appeal to alleged requirements for social order, such as the need for uniformity of belief on basic normative issues. One theological apologist for religious repression, for example, writes this: 'The king punishes heretics as enemies, as extremely wicked rebels, who endanger the peace of the kingdom, which cannot be maintained without the unity of the faith. That is why they are burnt in Spain."
Medievalist Régine Pernoud argued that heretics were burnt or tortured during the 12th Century due to the revival of Roman Law, which allowed torture to gain a confession and burning as punishment for treason. The torture and burning of heretics had as much to do with ancient Roman legal customs as it did with biblical exegesis. In fact, the Inquisition used torture more sparingly, passed death sentences more rarely and had more humane prisons than most secular courts of the same time. This suggests inquisitors actually moderated already accepted harsh Roman practices. Now, this does not justify such practices but it does question the thesis that religious reasons were the driving motivation for them or the thesis that they would not have occurred if a more secular context had prevailed. In a similar vein the Crusades were originally called to protect pilgrims from attack, to recover annexed territory and to protect the eastern Roman Empire from invasion — all secular reasons that could have been utilised to justify war quite independently of any religious rationale. Was World War II not fought to recover annexed territory, protect innocent people and protect Europe from invasion? How many millions were killed for that?
When these qualifications fail it is contended that not all atheists support these practices. This is true. It is also true that not all religious people support the practices cited by these sceptics. In fact, historically, some of the most important criticisms of religious persecution and defences of religious tolerance, such as those proposed by John Locke and Pierre Bayle, appealed to explicitly theological grounds.
Yale Philosophy Professor, Nicholas Wolterstorff, notes that "many of the social movements in the modern world that have moved societies in the direction of liberal democracy have been deeply and explicitly religious in their orientation." Wolterstorff cites examples such as the abolitionist, civil rights and other resistance movements as examples.
So the appeal to historical atrocities, on examination, seems often based on a fairly selective analysis of the evidence. The Bin Ladens and Hitlers of this world are clearly dangerous but so too are the Stalins, Pol Pots and secular groups like the Tamil Tigers who pioneered the practice of suicide bombing before Al-Qaeda came on the scene. People fight and kill for a number of reasons; sometimes these are religious, more often they are secular – sometimes both. When people care deeply about something, sometimes they will kill to protect it. Religion is not an exception.
Bin Laden is dead; however, as commentators incessantly tell us, the legacy of religious terror he represents will continue. What also will continue are the prejudices of some secular groups who use his example to stereotype and smear all religions as dangerous and fanatical. It is far easier to kill a terrorist than it is to kill irrational prejudice but at least one can expose it for the shallow line of thought that it is.
I write a monthly column for Investigate Magazine entitled "Contra Mundum." This blog post was published in the June 2011 issue and is reproduced here with permission. Contra Mundum is Latin for 'against the world;' the phrase is usually attributed to Athanasius who was exiled for defending Christian orthodoxy.
Letters to the editor should be sent to:
editorial@investigatemagazine.DELETE.com
RELATED POSTS:
Contra Mundum: Stoning Adulterers
Contra Mundum: Why Does God Allow Suffering?
Contra Mundum: "Till Death do us Part" Christ's Teachings on Abuse, Divorce and Remarriage
Contra Mundum: Is God a 21st Century Western Liberal?
Contra Mundum: In Defence of Santa
Contra Mundum: The Number of the Beast
Contra Mundum: Pluralism and Being Right
Contra Mundum: Abraham and Isaac and the Killing of Innocents
Contra Mundum: Selling Atheism
Contra Mundum: Did God Command Genocide in the Old Testament?
Contra Mundum: Fairies, Leprechauns, Golden Tea Cups & Spaghetti Monsters
Contra Mundum: Secularism and Public Life
Contra Mundum: Richard Dawkins and Open Mindedness
Contra Mundum: Slavery and the Old Testament
Contra Mundum: Secular Smoke Screens and Plato's Euthyphro
Contra Mundum: What's Wrong with Imposing your Beliefs onto Others?
Contra Mundum: God, Proof and Faith
Contra Mundum: "Bigoted Fundamentalist" as Orwellian Double-Speak
Contra Mundum: The Flat-Earth Myth
Contra Mundum: Confessions of an Anti-Choice Fanatic
Contra Mundum: The Judgmental Jesus
Tags: 9/11 · Alister McGrath · Christian History · Christopher Eberle · Contra Mundum · David Lindberg · Glenn Peoples · Historical Atrocities · Investigate Magazine · Jim Peron · Nicholas Wolterstorff · Osama Bin Laden · Regine Pernoud · Religion in Public Life · Religious History · Richard Wurmbrand · Ronald Numbers · Sam Harris · Terence Cuneo41 Comments