This blog's Matthew Flannagan is scheduled to speak alongside Dr Glenn Peoples, Dr Chris Tucker, Sean du Toit and Jacqui Lloyd at this Friday's one day Auckland conference Advance: Exploring Tough Questions About Christianity.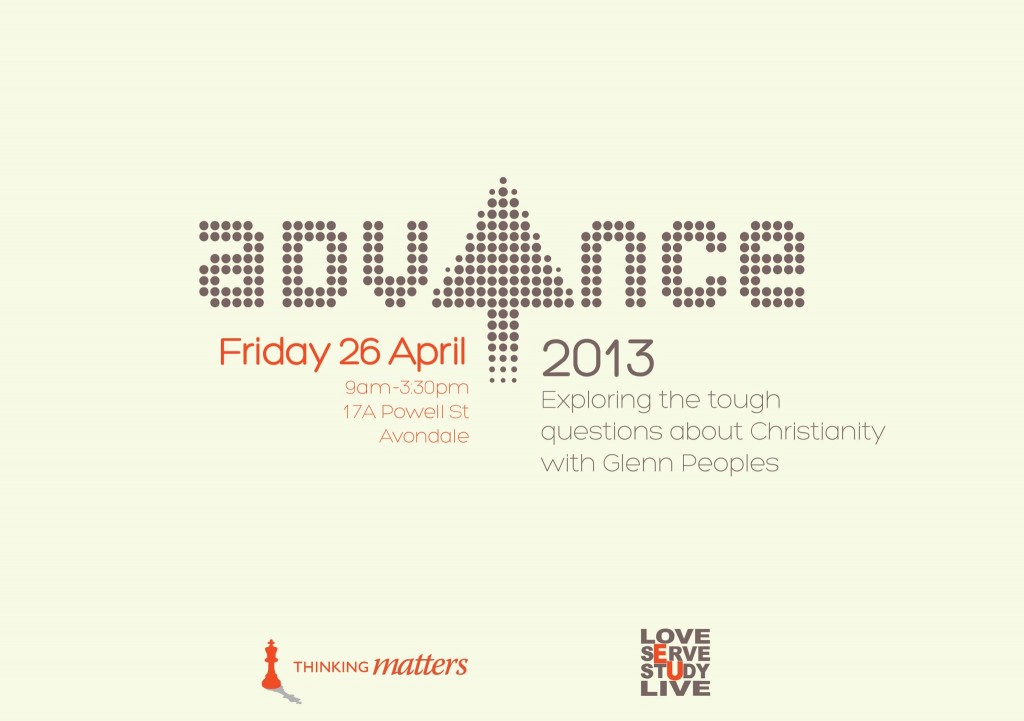 From the promotional material:
Are faith and reason enemies? Should we take Christianity seriously in the world of ideas? Can we even know that Christianity is true? Thinking Matters and Evangelical Union are proud to host Christian philosopher, blogger, and popular speaker Dr Glenn Peoples to explore these questions and examine the evidence.
Workshops sessions available:
Dr Chris Tucker on the 'problem of evil'
Shawn Means on maths, the universe, and God
Sean du Toit on who wrote the books of the New Testament
Dr Matthew Flannagan on reading difficult Old Testament passages
The day will conclude with a panel featuring Dr Glenn Peoples, Dr Matthew Flannagan, and Jacqui Lloyd which is open to any question.
The location is 'GAPS' 17A Powell St, Avondale – slightly out of the city (and a 10 min walk from Avondale train station), this rustic location is ideal for seminars and discussion.
Cost: $15. Lunch is included.
Register at the Facebook event page here.
Tags: Chris Tucker · Evangelical Union · Events · Glenn Peoples · Jacqui Lloyd · Sean du Toit · Thinking Matters15 Comments