Randal Rauser has published a blog post touching on Old Testament ethics called "An update in the wake of Atlanta (plus a bit on rape and child killing)". His post gives an update on his thoughts following his interaction with Paul Copan, Richard Hess and myself in the Evangelical Philosophical Society's break-out panel discussion "Is Yahweh a Moral Monster" at the Society for Biblical Literature ("SBL") in Atlanta in November. While there was considerable overlap between his position and mine, there was one particular issue on which he and I disagreed quite sharply on the night that he alludes to in his post. Let me contextualise this disagreement and then put my response to his comments.
Back in 2009 I wrote "Abraham and Isaac – Did God Command the Killing of an Innocent?" This post addressed a dilemma several philosophers have raised for those Christians who take the patriarchal narratives in Genesis in literal manner. It seems plausible that Christians who do this are committed to an inconsistent triad,
If God commands an action x then x is morally required;
It is wrong to kill innocent human beings;
God commanded Abraham to kill an innocent human being.
These three propositions are inconsistent; 1 and 3 entail the denial of 2.
To respond to this triad, I appropriated a thought experiment provided by John Hare; I wrote:
One example Hare notes, is particularly interesting, "Perhaps (to get more bizarre) God could have willed that we kill each other at the age of 18, at which point God would bring us immediately back to life." Hare asks us to imagine a world, in which, when people of a certain age are killed they immediately come back to life. He opines, quite plausibly, that if this were to be the case then killing people at this age would not be wrong or at least, not seriously wrong. One of the reasons that killing people is wrong in the world we live in is because people stay dead. If they were only unconscious for a split second and came back to life in full health then arguably killing a person would not be the serious wrong we believe it is.
I suggested that, a careful examination of the text reveals that Abraham's actions occurred in a context where he knew his son would not stay dead but would come down the mountain with him and live on to adulthood to father children of his own. I argued this fact resolves the dilemma,
Once this is realised, I think it is evident that [1], [2] and [3] are consistent. If one assumes, for the sake of argument, that the Patriarchal Narratives are literally true then it follows that [3] is true only if a certain context is assumed. God commanded Abraham to kill his son in the highly unusual context where Abraham knew that his son would not stay dead but would come down the mountain afterwards and live on to adulthood to father children of his own. Proposition [2] is defensible only in a context where people do not know these sorts of things; the rule to not kill the innocent applies to a world where people do not come back to life after they have been killed. Hence, the story of Abraham and Isaac, if taken literally, does not entail that God commanded something immoral or contradictory.
What I later discovered is that Paul Copan sometimes reads this blog and he, on reading my post, summarised my argument and appropriated it (with acknowledgements)  in chapter 5 of his latest book Is God a Moral Monster: Making Sense of the Old Testament God.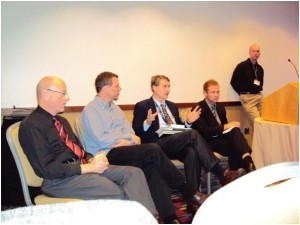 Enter Randal Rauser. In the paper he presented for the SBL panel, Rauser made a remark on the Abraham and Isaac issue. Copan responded by summarising his argument, which was an appropriation of my argument. Rauser responded with an analogy, which he has since put up on his blog:
"Yeah, what if?" I thought cynically. But that was my inside voice. With my outside (audible) voice I replied: "So what if a virgin child could be raped and then miraculously made a virgin once again? Would the rape of the child still be evil?" That didn't go over well, I think. But I don't see the difference."
Here was my point. Let's grant, for the sake of argument, that God demanded the killing of a child and then immediately resurrected that child. Would that make it all better? Well there would still be that little matter that the child was killed by dad… "Dad, it's good to be alive again and all, but you did decapitate me, and that kinda stinks, you know?" (Talk about an awkward moment at the Thanksgiving dinner table.)
And likewise a child that was devotionally raped and then had their virginity miraculously restored (physiologically and psychologically) could still say, "Dad, it's great to be a virgin again and all, but you did rape me, and that kinda stinks, you know?"
My recollection is that Rauser's comment did go down well initially. It was after a few exchanges that the audience became less enthusiastic. But putting audience reactions aside, does this response work?
As I noted in my response to Rauser on the night, I do not think it does. That is because I think there is a difference between killing someone and their being immediately restored to life and raping someone and their virginity being immediately restored. It is this: what makes rape wrong is not that it takes away a person's virginity, the act is still a grave moral evil if a non-virgin is raped. What makes rape wrong is some other feature of the act. Killing is different. It is quite plausible to say that one of the major things that makes killing wrong is that when you kill someone you deprive them of their life. In fact, several of the most prominent analyses of the morality of killing in the literature make this point.
Michael Tooley and Peter Singer, for example, argue that killing is wrong because it frustrates a being's desire to continue in existence. If a person is killed and yet continued in existence then this wrong-making property would not be instantiated and so, on this analysis, killing would not be wrong. Similarly, Don Marquis argues that what makes killing wrong is that it deprives a victim of a future of value, a future the victim would have experienced had they not been killed. David Boonin argues that what makes killing wrong is that it frustrates a being's ideal desires to continue living. Some Kantian views assume this too; the reason killing is considered disrespectful or demeaning on their view is because it shows a desire to destroy the person, to deprive them of all the goods of their future and so forth. I am not endorsing any of these theories, I am simply pointing out that it is plausible to say that, whatever it is that makes killing wrong, is tied up with the fact that killing ends a life.
This fact makes all the difference because when you kill someone who immediately comes back to life, the property central to making killing wrong has been removed from the act – the person is not dead. When someone is raped and their virginity is restored the property that makes rape wrong is still there. This is why I think Rauser's example does not work and this is what I said to him at the SBL panel; when a person is raped and their virginity is restored, they have still been subjected to a horrific wrong, the wrong of being raped. But when a person has been killed and their life has been restored, they have not been subjected to a great wrong — yes they have for a split second been killed but the act occurs in a context where the properties which make killing a great wrong were not present. So I think Rauser's critique of Copan and myself on this issue fails.
There are numerous other issues here that I could go into such as the fact that raping a person and restoring their virginity is logically impossible in a way it is not with killing. Also, the fact that God intervened to prevent Abraham killing Isaac and so on but here I simply wanted to address the main difference between us.
Tags: Abraham and Isaac · David Boonin · Don Marquis · Evangelical Philosophical Society · Homicide · John Hare · Michael Tooley · Old Testament Ethics · Paul Copan · Peter Singer · Randal Rauser · Richard Hess · Society of Biblical Literature89 Comments