Around this time last year I wrote two posts Joshua and the Genocide of the Canaanites I and Joshua and the Genocide of the Canaanites II. These posts attracted a fair amount of attention and debate. I got offers to publish my ideas in several upcoming books and present them before both the Evangelical Philosophical Society (EPS) and the Society for Biblical Literature in November 2010. Since the original posts I have corresponded with various people and I have modified and refined some of the ideas. This three-part blog series is a modified version of what I presented to the EPS last month. These posts supersede and update what I wrote in a year ago.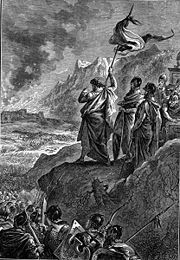 One of the most perplexing issues facing Christian believers is a series of jarring texts in the Old Testament. After liberating Israel from slavery in Egypt, the Israelites arrived on the edge of the Promised Land. The book of Deuteronomy records that God then commanded Israel to "destroy totally" the people occupying these regions (the Canaanites); the Israelites were to "leave alive nothing that breathes". The book of Joshua records the carrying out of this command. In the sixth chapter it states "they devoted the city to the LORD and destroyed with the sword every living thing in it—men and women, young and old, cattle, sheep and donkeys". In the tenth and eleventh chapters it states that Joshua "left no survivors. He totally destroyed all who breathed, just as the LORD, the God of Israel, had commanded." The text mentions city after city where Joshua, at God's command, puts every inhabitant "to the sword"  "totally destroyed the inhabitants" and "left no survivors."
If one takes these passages literally they record the divinely-authorised commission of genocide. But genocide surely is morally wrong. In the light of this, critics of Christian theism often ask a rhetorical question; how could a good and loving God command the extermination of the Canaanites?
One response which goes back to the patristic era is to suggest that the strict, literal reading on which this rhetorical question is based is mistaken. Recently, several, protestant scholars have suggested a hyperbolic reading of the relevant passages.[1] Perhaps the most detailed is that proposed by Nicholas Wolterstorff. Wolterstorff suggests,
"[T]hat the Book of Joshua has to be read as a theologically-oriented narration, stylized and hyperbolic at important points, of Israel's early skirmishes in the Promised Land, with the story of these battles being framed by descriptions of two great ritualized events.  The story as a whole celebrates Joshua as the great leader of his people, faithful to Yahweh, worthy successor of Moses.  If we strip the word "hagiography" of its negative connotations, we can call it a hagiographic account of Joshua's exploits."[2]
In this series I will defend Wolterstorff's position. In this post I will sketch, adapt and defend Wolterstorff's argument. In Part II, I will argue that external evidence from comparative studies in Ancient Near Eastern conquest accounts gives considerable support to Wolterstorff's position. Finally in Part III I will look at two implications of this position.
Wolterstorff's Argument
Wolterstorff's contention is that "a careful reading of the text in its literary context makes it implausible to interpret it as claiming that Yahweh ordered extermination". It is important to note what he means by context. Here, it is clear that Wolterstorff is advocating a canonical approach. He notes that,
"Joshua as we have it today was intended as a component in the larger sequence consisting of Deuteronomy, Joshua, Judges, I and II Samuel, and I and II Kings…  I propose that we interpret the Book of Joshua as a component within this larger sequence – in particular, that we interpret it as preceded by Deuteronomy and succeeded by Judges."[3]
Joshua comes after Deuteronomy and before Judges. Wolterstorff points out that these books should be read as a single narrative. When one does this, however, several issues are apparent. Joshua 6-11 summarises several battles and concludes with "So Joshua took the entire land, just as the LORD had directed Moses, and he gave it as an inheritance to Israel according to their tribal divisions.  Then the land had rest from war"[4] (Joshua 11:16-23). Judges, however, opens with a battle that occurs after Joshua's death; it states,
"After the death of Joshua, the Israelites inquired of the Lord, "Who shall go up first for us against the Canaanites, to fight against them?"  The Lord said, "Judah shall go up.  I hereby give the land into his hand."  Judah said to his brother Simeon, "Come up with me into the territory allotted to me, that we may fight against the Canaanites; then I too will go with you into the territory allotted to you.  So Simeon went with him.  Then Judah went up and the Lord gave the Canaanites and the Perizzites into their hand; and they defeated ten thousand of them at Bezek." [Judges 1: 1-4]
Taken literally, Joshua states Joshua conquered the whole land and Judges states that much of the land was unconquered.
Similarly, Joshua affirms he exterminated all the Canaanites in this region. Repeatedly it states that Joshua left "no survivors" and "destroyed everything that breathed" in "the entire land", "put all the inhabitants to the sword". Alongside these general claims the text identifies several specific places and cities where Joshua exterminated everyone and left no survivors. These include Hebron (Josh. 10:40), Debir (Josh. 10:38), the hill country and the Negev and the western foothills (Josh. 10:40). In the first chapter of Judges, however, we are told that the Canaanites lived in the Negev (1:9), in the hill country (Judg. 1:9), in Debir (Judg. 1:11), in Hebron (Judg. 1:10) and in the western foothills (Judg. 1:9). Moreover, they did so in such numbers and strength that they had to be driven out by force. These are the same cities that Joshua 10 tells us Joshua had annihilated and left no survivors in.[5]
Similarly, Joshua 11:23 states that "Joshua took the entire land" and then "gave it as an inheritance to Israel according to their tribal divisions". Consequently, the conquered region is the same land that is later divided between the Israelite tribes. When the text turns to giving an account of these tribal divisions only a chapter later the allotments begin with God telling Joshua, "You are very old, and there are still very large areas of land to be taken over" (Josh 13:1). Moreover, when one examines the allotment given to Judah we see Caleb asking permission to drive the Anakites (Josh14: 11) from the hill countries and we also hear how Caleb has to defeat Anakites living in Hebron and, after this, marches against the people "living in Debir" (Josh 15:13-19). Similarly, it is evident with several of the other allotments that the people have yet to drive out Canaanites entrenched in the area and that the Israelites were not always successful in doing so.
We read, for example, that the Ephraimites and Manassites "did not dislodge the Canaanites living in Gezer; to this day the Canaanites live among the people of Ephraim" (Josh 16:10). Similarly, in Chapter 17 it states "Yet the Manassites were not able to occupy these towns, for the Canaanites were determined to live in that region. However, when the Israelites grew stronger, they subjected the Canaanites to forced labor but did not drive them out completely" (Joshua 17:12-13). We hear that "Danites had difficulty taking possession of their territory, so they went up and attacked Leshem, took it, put it to the sword and occupied it. They settled in Leshem and named it Dan after their forefather" (Joshua 19:47). Here we see the same land said to be subdued and conquered by Joshua in battles where he exterminated and left alive nothing that breathed; this land is yet to be occupied by the tribes of Israel and is occupied by Canaanites, often heavily armed and deeply entrenched (17:17-18).
Kenneth Kitchen notes that a careful reading of the earlier chapters makes it clear that Israel did not actually conquer the areas mentioned at all. Kitchen notes that after crossing the Jordan the Israelites set up camp in Gilgal "on the east border of Jericho" (Joshua 4:19). He notes that after every battle in the next six chapters the text explicitly states that they returned to Gilgal,
"The conflict with Canaanite city-state rulers in the southern part of Canaan is worth close examination. After the battle for Gibeon, we see the Hebrews advancing upon six towns in order, attacking and capturing them, killing their local kings and such inhabitants that had not gotten clear, and moving on, not holding on to those places. Twice over (10:15, 43), it is clearly stated that their strike force returned to base camp at Gilgal.  So there was no sweeping take over and occupation of this region at this point. And no total destruction of the towns attacked."[6]
Kitchen goes on to note,
"What happened in the south was repeated up north. Hazor was both leader and famed center for the north Canaanite kinglets. Thus as in the south the Hebrew strike force defeated the opposition; captured their towns, killed rulers and less mobile inhabitants, symbolically burned Hazor and Hazor only to emphasis its end to its local supremacy. Again Israel did not attempt to immediately hold on to Galilee: they remained based at Gilgal (14:6)."[7]
Kitchen notes that the first "real indication of a move in occupation beyond Gilgal comes in 18:4." This is after the first allotment of "lands to be occupied are made" and as we saw above the Israelites did not find occupying these allotments easy. He concludes, "these campaigns were essentially disabling raids: they were not territorial conquests with instant Hebrew occupation. The text is very clear about this."[8]
Finally, the account of what God commanded differs in the two narratives. Joshua states "He left no survivors. He totally destroyed all who breathed, just as the LORD, the God of Israel, had commanded (Josh 10:40) and "exterminating them without mercy, as the LORD had commanded Moses (Josh 11:20b ). However, when the command is retroactively referred to in Judges 2:1, no mention of genocide or annihilation is made; instead we hear of how God had promised to drive them out and had commanded the Israelites to not to make treaties with them and to destroy their shrines. This silence is significant in the context. If God had commanded genocide then it is odd that only the failure to make treaties was mentioned.
Therefore taken as a single narrative and taken literally, Joshua 1-11 gives a different account of events to that narrated by Judges and also to that narrated by the later chapters of Joshua itself.
Wolterstorff raises a further point,
"Those whose occupation it is to try to determine the origins of these writings will suggest that the editors had contradictory records, oral traditions, and so forth to work with.  No doubt this is correct.  But those who edited the final version of these writings into one sequence were not mindless; they could see, as well as you and I can see, the tensions and contradictions – surface or real – that I have pointed to. So what is going on?"[9]
Wolterstorff's point is that, regardless of what sources or strata of tradition are alleged behind the final form of Joshua, the redactors who put these books into a single narrative would have been well aware of the obvious contradictions mentioned above. Moreover, these redactors were not mindless or stupid. They obviously would not want to affirm that both accounts were a true literal description of what occurred. Yet they chose to put next to Joshua in the canon a book which began with a narration at odds with a literal reading of the early chapters of Joshua and they chose to juxtapose the picture of Joshua 1-11 with the later chapters I mentioned above. The redactor cannot therefore be asserting that both accounts are literally true.
I think Wolterstorff is correct here. However, his position could be substantially strengthened on theological grounds. In Divine Discourse Wolterstorff provides an interesting and rigorous analysis of the notion that Scripture is the word of God. Central to his analysis is that "an eminently plausible construal of the process, whereby these books found their way into a single canonical text, would be that by way of that process of canonization God was authorizing these books as together constituting a single volume of divine discourse." [10]
This understanding of Scripture provides the theological justification for reading the text as a single series and hence determining what the author of early chapters of Joshua teaches by examining what is affirmed in Judges and later passages of Joshua.[11] Moreover, if the primary author of Scripture is God, then obviously the primary author of the final canon text is an intelligent person who is unlikely to have deliberately (or accidentally) authored an obviously -contradictory narrative. Hence, even if the contradictions were not obvious to the redactors, and I think Wolterstorff is correct that these apparent contradictions would have been,[12] they would be evident to God. Seeing the process whereby the redactors incorporated these books into a "single canonical text" constitutes God authorising them, this process cannot have involved  the redactors affirming as literally true two contradictory accounts.
It may be contended that an appeal to divine authorship in this way begs the question, however, I think this is mistaken. As I understand the objection, the sceptic who claims that God commanded genocide is offering a reductio ad absurdum; he or she starts by assuming that whatever God commands is right and that Scripture is the word of God, and then derives from these assumptions the absurd conclusion that genocide is not wrong. The question then is whether, granting these assumptions, such a conclusion does, in fact, follow. If Scripture is a unified divine discourse, the sceptic's conclusion need not follow, for another assumption of the sceptic – that all accounts were intended to be taken as literal – is not evidently true.[13]
Therefore the picture of total annihilation of the Canaanites and complete conquest of their land, and the picture put forward in Judges cannot both be taken as literal descriptions of what actually happened.
At this point Wolterstorff raises a further issue about the type of literature Joshua appears to be. He notes that the early chapters of Judges, by and large, read like "down- to- earth history". However, "Anyone who reads the Book of Joshua in one sitting cannot fail to be struck by certain stylistic features in the narrative.  One is "the highly- ritualized character of some of the major events described".[14]
"The book is framed by its opening narration of the ritualized crossing of the Jordan and by its closing narration of the equally- ritualized ceremony of blessing and cursing that took place at Shechem; and the conquest narrative begins with the ritualized destruction of Jericho."[15]
A related ritualistic feature is the "the mysterious sacral category of being devoted to destruction."[16] Most significant is the use of formulaic language,
"Anyone who reads the Book of Joshua in one sitting cannot fail to be struck by the prominent employment of formulaic phrasings. … Far more important is the formulaic clause, "struck down all the inhabitants with the edge of the sword."
The first time one reads that Joshua struck down all the inhabitants of a city with the edge of the sword, namely, in the story of the conquest of Jericho (6:21), one makes nothing of it.  But the phrasing – or close variants thereon — gets repeated, seven times in close succession in chapter 10, two more times in chapter 11, and several times in other chapters.  The repetition makes it unmistakable that we are dealing here with a formulaic literary convention."[17]
Thus Joshua itself appears to be full of ritualistic, stylised, formulaic language. It therefore looks like something other than a mere literal description of what occurred. In light of these facts Wolterstorff argues that Judges should be taken literally whereas Joshua is hagiographic history; a highly-stylised, exaggerated account of what occurred, designed to teach theological and moral points rather than to describe in detail what actually happened. Wolterstorff provides the example of North American morality tales of the noble puritan or Washington crossing the Delaware. These are idealised, exaggerated accounts of the past designed to teach a moral lesson, not accurate accounts of what actually occurred.
In Part II I look at Ancient Near Eastern conquest accounts.
---
[1] Alvin Plantinga "Comments on Evan Fales' Satanic Verses: Moral Chaos in Holy Writ" a paper presented to "My Ways Are Not Your Ways: The Character of the God of the Hebrew Bible" Conference at the centre for Philosophy of Religion, University of Notre Dame, Friday 11 September 2009; Paul Copan "Yahweh Wars and the Canaanites:  Divinely Mandated Genocide or Corporate Capital Punishment" Philosophia Christi 11/1 (2009)  and Chapter 16 of Is God a Moral Monster: Making Sense of the Old Testament (Baker Books: forthcoming 2011); Christopher Wright The God I Don't Understand: Reflections on Tough Questions of Faith Grand Rapids MI: Zondervan, 2008) 87-88; In his latest discussion on the issue, William Lane Craig states "I've come to appreciate that the object of God's command to the Israelis was not the slaughter of the Canaanites, as is often imagined. The command rather was primarily to drive them out of the land. The judgement upon these Canaanite kingdoms was to dispossess them of their land and thus destroy them as kingdoms." See Divine Command Morality and Voluntarism at http://www.reasonablefaith.org/site/News2?page=NewsArticle&id=7911 accessed at 29 October 2010.
[2] Nicholas Wolterstorff "Reading Joshua" a paper presented to "My Ways Are Not Your Ways: The Character of the God of the Hebrew Bible" Conference at the centre for Philosophy of Religion, University of Notre Dame, Saturday 12 September 2009.
[3] Nicholas Wolterstorff "Reading Joshua" Divine Evil? The Moral Character of the God of Abraham in  Michael Bergmann, Michael J Murray and Michael C Rea (Eds) (New York: Oxford University Press, 2010 forthcoming).
[4] All Scripture quotations are from the NIV unless otherwise stated. At certain points I will quote from other translations when I think they capture the literal wording more accurately in a manner that is important for my argument.
[5] In addition to these general claims about exterminating populations, Joshua 11:21-22 states "Joshua came and wiped out the Anakim from the hill country, from Hebron, from Debir, from Anab, and from all the hill country of Judah." This happens after Joshua is already said to have killed the inhabitants in these areas in Josh 10:30-40. Josh 11:21 states that no Anakites were left living in Israeli territory after this campaign. In Judges 1:21 the text explicitly states that Anakites are in Hebron.
[6] Kenneth Kitchen On the Reliability of the Old  Testament (Grand Rapids and Cambridge: William B. Eerdmans Publishing Company, 2003) 162.
[7] Ibid.
[8] Ibid.
[9] Wolterstorff, Supra n 3.
[10] Nicholas Wolterstorff, Divine Discourse: Philosophical Reflections on the Claim That God Speaks (Cambridge: Cambridge University Press, 1995) 295; see also "Unity behind the Canon" in Christine Helmer and Christof Landmesser (Eds) One Scripture or Many? The Canon from Biblical, Theological, and Philosophical Perspectives (New York: Oxford University Press, 2004) 217-232.
[11] Plantinga notes "an assumption of the enterprise is that the principal author of the Bible—the entire Bible—is God himself (according to Calvin, God the Holy Spirit). Of course each of the books of the Bible has a human author or authors as well; still, the principal author is God. This impels us to treat the whole more like a unified communication than a miscellany of ancient books. Scripture isn't so much a library of independent books as itself a book with many subdivisions but a central theme: the message of the gospel. By virtue of this unity, furthermore (by virtue of the fact that there is just one principal author), it is possible to "interpret Scripture with Scripture." If a given passage from one of Paul's epistles is puzzling, it is perfectly proper to try to come to clarity as to what God's teaching is in this passage by appealing not only to what Paul himself says elsewhere in other epistles but also to what is taught elsewhere in Scripture (for example, the Gospel of John)" Alvin Plantinga Warranted Christian Belief (New York: Oxford University Press, 2000) 385.
[12] Wolterstorff notes that the phrase "he killed all the inhabitants with the edge of the sword" occurs at least 12 times in Joshua 6-11 in close succession. Judges on the other hand affirms 7 times in close succession that the Israelites failed to drive the Canaanites out, finishing with the Angel of Bokim rebuking them for failing to do so. Similarly in Josh 13-18 it is hammered repeatedly that the land is not yet conquered. Hence these are not subtle contrasts. They are in Wolterstorff's words "flamboyant" so it's unlikely an intelligent redactor would have missed this.
[13] I am grateful to Zachary Ardern for helping me to develop this point.
[14] Wolterstorff, Supra n 2.
[15] Ibid. The ritualised nature of the narration is also stressed by Duane Christensen, Deuteronomy 1:1-21:9 (Nashville: Thomas Nelson Publishers, 2001).
[16] Wolterstroff, supra n 2; the phrase "devoted to destruction" (herem in Hebrew). That reference to the herem serves a figurative or rhetorical function is also noted by Christopher Wright "Now we need to know that Israel's practice of herem was not itself unique. Texts from other nations at the time show that total destruction was practised, or at any rate proudly claimed, elsewhere. But we must also recognise that the language of warfare had a total rhetoric that liked to make universal and absolute claims about total victory and wiping out the enemy. Such rhetoric often exceeded reality on the ground…." in The God I Don't Understand: Reflections on Tough Questions of Faith Grand Rapids MI: Zondervan, 2008) 87-88. At the other end of the spectrum minimalist scholar Thomas  L Thomson writing on the use of herem in the Mesha stele notes  the "use of the ban at both Ataroth and Nebo are clearly part of the totalitarian rhetoric of holy war rather than historical considerations."  "Mesha and Questions of Historicity" Scandinavian Journal of the Old Testament Vol. 22, No. 2, 249.
[17] Wolterstorff, supra n 2.
RELATED POSTS:
God and the Genocide of the Canaanites Part II: Ancient Near Eastern Conquest Accounts
God and the Genocide of the Canaanites Part III: Two Implications of the Hagiographic Hyperbolic Account
Sunday Study: Joshua and the Genocide of the Canaanites Part I
Sunday Study: Joshua and the Genocide of the Canaanites Part II
Did God Command Genocide in the Old Testament?
Tags: Alvin Plantinga · Canaanites · Genocide · Hagiography · Hermeneutics · Hyperbole · Joshua · Kenneth Kitchen · Nicholas Wolterstorff · Old Testament Ethics · Selection42 Comments