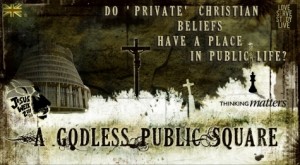 A few weeks ago, as part of Jesus Week at the University of Auckland, Thinking Matters and Evangelical Union hosted an event entitled A Godless Public Square: Do 'Private' Christian Beliefs Have a Place in Public Life? This event was a conversation between Theology, Philosophy and Law and featured Matthew Flannagan - Analytic Theologian, Glenn Peoples - Philosopher and Madeleine Flannagan - Legal Scholar. The video is still being edited and will be available soon but for now, this 3-part series comprises the written speeches of each speaker.
Madeleine Flannagan – Law
Glenn and Matt dealt with moral restraint; the idea prevalent in our society that those of us with religious convictions ought to keep them to ourselves when we participate in public life.
Often people contend or try to imply that this obligation is required by law. We've all heard politicians, people in the media, leaders in our communities, lecturers at university assert that we are a secular nation and that our commitment to freedom of religion requires a secular public square.[1]
And they are not wrong to a degree. It is evident that something like this 'obligation' advanced by the likes of Rawls, Audi, Gaus, et al is present in western jurisprudence – most obviously in that coming out of the United States; you do not need to have studied law to be aware of this, you will have picked up on it if you have watched any American TV.
Separation of Church and State or Separationism?
Most people are aware that the US Supreme Court has interpreted America's Religious Freedom and Free Exercise laws to mean that religious instruction, prayer, references to God, displays of the 10 commandments, nativity scenes — even where participation is totally voluntary — are banned from public institutions.
This "separationist" reading of the 1st amendment is drawn from US Founding Father Thomas Jefferson's "Wall of separation Letter" to the Danbury Baptists Association in 1802. But it is unlikely that this reading is what Jefferson meant. At the time he was writing in early nineteenth century America, the common perception of the relationship between church and state reflected a long-standing European tradition.
Legal scholar Steven Smith wrote in "Separation and the Secular: Reconstructing the Disestablishment Decision" that,
… At least since the middle ages, scholars and polemicists of all stripes had argued-on both religious and political grounds-that the church should exercise control over the state or-again on both religious and political grounds-that the state should control the church. The common view for centuries had been that an established church was essential to political and social stability.[2]
He added,
… In medieval Europe, for example, kings had claimed, and had exercised, the power to appoint bishops and popes. After the Reformation, the British monarch became the official head of the Church of England, and British government assumed control over both the selection of ecclesiastical officials and the formulation of religious doctrine.[3]
In fact, the Book of Common Prayer, including the 39 Articles, was commissioned and approved by the Crown.
Smith goes on,
… medieval popes regularly crowned earthly emperors and kings, and they claimed (and frequently purported to exercise) the authority not merely to excommunicate but actually to depose those kings. Popes sometimes asserted jurisdiction to adjudicate what were essentially political or property disputes. In England, the Church enjoyed-and still enjoys-official representation in Parliament. Immigrants later imported established churches in some form into most of the American colonies.[4]
The church-state relationship that was familiar to an eighteenth century American was that "governments controlled or directly intervened in the internal affairs of churches, and churches claimed and were formally endowed with governmental powers."
At the time Jefferson was writing, many US States had established churches; so when the United States Congress promised to "… make no law respecting an establishment of religion, or prohibiting the free exercise thereof…"[5] they more likely had in mind that Separation of Church and State is simply the idea that the church should not be formally endowed with governmental powers and the state should not try to intervene in or control the church.
Separation of church and state is not separation of religious beliefs from public life (perhaps this confusion arises because both concepts have the word "separation" in them). The idea that Congress meant something more than mere Separation of Church and State when it passed the first amendment – that Congress meant Separationism — was birthed in the mid to late 20th century – some 200 years later – by the US Supreme Court when it began to hear cases about prayer in schools and the funding of Catholic schools.
Separationism and Separation of Church and State, as we have seen, are different ideas and one doe not entail the other.
Comparitive Jurisdictions
This is not just about the US. Separationist understandings of freedom of religion can be seen in Western jurisprudence elsewhere. There are European cases that exhibit it – even in places like the UK that do have an established church. Many of you will have heard the cases in the media of workers being sent home from their jobs after refusing to follow an instructions from their employers to remove religious jewellery[6] – normal jewellery was fine, just not anything that symbolised God.
The "Liberty Intervening" case is another UK example; a state-Celebrant refused to perform civil partnerships between members of the same sex. Because of her views on marriage, she was found to have discriminated against those couples. She could not appeal to freedom of religion as the court held that her employer's requirement she perform same sex civil partnerships did not interfere with her ability to worship.[7]
Then there is this case, the summary from the head note explains it clearly:
Summary: The Employment Appeal Tribunal had correctly decided that a counselling organisation had not breached the Employment Equality (Religion or Belief) Regulations 2003 reg.3(1)(a) or reg.3(1)(b) when it dismissed one of its relationship counsellors who refused to counsel same sex couples on sexual matters because of his Christian beliefs. Although the law protected a person's right to hold or express their religious beliefs, it did not protect the substance or content of those beliefs on the ground only that they were based on religious precepts.[8]
The last line seems to suggest a denial of the existence of a right to freedom of religion. In the judgment of the case this summary note comes from, Lord Justice Laws gave a lengthy spiel on its views on religion in public life, despite going on to rule as just stated, part of that spiel was:
"We do not live in a society where all the people share uniform religious beliefs. The precepts of any one religion, any belief system, cannot, by force of their religious origins, sound any louder in the general law than the precepts of any other."[9]
Sounds all good and equal right? – keep this quote in mind as we move onto the next case.
Earlier this year, 2011, this next one hit the news here in New Zealand; it was that of Eunice and Owen Johns, Christian foster parents, who had been disallowed from continuing to be foster parents after telling a social worker that they could not state that homosexual conduct was a good thing to one of their charges. The Johns took a case on the grounds of discrimination against their religious belief – which they understood they were free to hold to and live by – and they lost.
In their case the Lord Justice Munby quoted Lord Justice Laws's lengthy spiel in McFarlane and Relate Avon Limited, including the quote I said to keep in mind, and after doing so they said: "We respectfully and emphatically agree with every word of that." Then the court offered as its basis for refusing to let the Johns be foster parents,
"In the circumstances we cannot avoid the need to re-state what ought to be, but seemingly are not, well understood principles regulating the relationship of religion and law in our society. We preface what follows with the obvious point that we live in this country in a democratic and pluralistic society, in a secular state not a theocracy."[Emphasis mine.]
So basically, it is the Court's position that all viewpoints are equal – they referred to "religion" and "any belief system" BUT! (channelling some Orwell here) secular viewpoints are more equal than other viewpoints — and to suggest otherwise is to advocate for a theocracy.
Religious Freedom in New Zealand
So that all said about other countries; how does Freedom of Religion work for us in New Zealand?
Now, obviously NZ has its own laws and it is not bound by international laws and jurisprudence, but, if and when we do get some cases on these issues (we have not had many at all so far) it will be jurisdictions like the United Kingdom, the United States, Australia and Canada – the latter's Bill of Rights arguably operates the closest to ours – that our judges will look to this body of jurisprudence for guidance in interpreting our laws because many of the same questions and factors come in to play in these western nations with a common law history and more litigation on this topic than we have had.
NZ Rights and Freedom law expert, Paul Rishworth, makes the point, and I think he is right, that as a group or belief system increasingly dominates as a majority in society there tends to be a rise in litigation over rights of minority groups. This is because the smaller they get the less the mainstream cares about their rights being infringed. Rishworth expects that we will see a rise in religious freedom cases in New Zealand in the future because of this.[10]
This is why it is important for us to have this conversation now, for us to be thinking about what the Church's, what our response to the ideas being discussed here tonight are and what sort of Jurisprudence and public policy we want to see be developed here in NZ. [Other organisations in our society are as I documented in The New Zealand Association of Rationalist Humanists and the Privileging of Secularism. The "NZARH" has published a statement of aspirational ideals for the New Zealand state on their website. Entitled "The Tolerant Secular State" the document seeks the eradication of religion from public life.]
Central to these church-state debates are questions around which circumstances governmental accommodation or endorsement of a religious practice or idea amounts to coercion of a dissenter from that practice, and is therefore, a violation of freedom of religion.
It is here that questions of religion in public life come to the fore. Does the guarantee of freedom of religion entail that religion be regulated to the private sphere with the state adopting and privileging a "secular" perspective on the grounds that this is allegedly neutral towards religions?
I will argue it does not; especially not in New Zealand. Let us turn to the New Zealand Bill of Rights Act.
Bill of Rights Act
What sets our freedom of religion clauses in our Bill of Rights apart from, say, the US Constitution, is that we do not have an establishment clause. Further, we do not define religion narrowly nor do we view narrowly its expressions.
There is one other interesting aspect to how NZ has approached this issue (and no, I am not talking about the fact our Bill of Rights Act is a simple statute).
Our freedom of religion clauses are contained in three passages, sections: 13, 14 and 15 – the placement of section 14 between sections 13 and 15 was deliberate. Let's look at each.
13 Freedom of thought, conscience, and religion

Everyone has the right to freedom of thought, conscience, religion, and belief, including the right to adopt and to hold opinions without interference. [Emphasis mine]
Now in law when you see a list of things separated by commas in the same section of an Act, as you do here, you know that Parliament is meaning to place these things on par with each other and is meaning to suggest they have a sort of equality or sameness to each other. Unless the text explicitly says otherwise, they have to be treated and weighted the same.
The New Zealand Bill of Rights then protects equally not just religion but thought, conscience and belief.
The nature of what "belief" is is what I want to focus on here.
No New Zealand cases under s13 have yet defined religion or belief – although we have a definition in s21(d) of the Human Rights Act "ethical belief, which means the lack of a religious belief, whether in respect of a particular religion or religions or all religions" and in other legislation.[11] A judge is likely to look further afield than this to be sure that the definition is appropriate for the legal issues in this particular area of law.
 International and comparative Jurisprudence has some definitions specific to this area. The International Covenant on Civil and Political Rights (ICCPR) Travaux Prepetoire states that 'belief' entails "such other beliefs as agnosticism, free thought, atheism and rationalism".
The European Court of Human Rights (ECHR) supports this view and adds (sounding a bit like Rawls) that "coherent views on fundamental problems" will qualify as beliefs.
Similar definitions can be found in the jurisprudence of other western jurisdictions. Comprehensive secular viewpoints count as 'belief' and the State is required to protect and treat them equally with religion.
Whilst s 13 deals with what you are allowed to think and believe s 14 is about finding out more and sharing what think and believe:
14 Freedom of expression

Everyone has the right to freedom of expression, including the freedom to seek, receive, and impart information and opinions of any kind in any form. [Emphasis mine]
Note that your right to seek, receive and impart information about what you believe, is stated absolutely and without limit as to location; it entails that both private and public forums is what is meant. This is bourn out in s 15, the section that covers what you do with your beliefs:
15 Manifestation of religion and belief

Every person has the right to manifest that person's religion or belief in worship, observance, practice, or teaching, either individually or in community with others, and either in public or in private. [Emphasis mine]
You can act on your comprehensive secular belief and/or your religious belief in public or in private – again the wording is broad and unlimited.
So if freedom of religion entails that public policy discussions and administration cannot include religious considerations – that religion must be excluded from public life to safeguard religious freedom – then parity of argument suggests that freedom of ethical belief – such as secular humanism, agnosticism or atheism – precludes ethical beliefs in public policy considerations. We're supposed to treat beliefs equally afterall.
In fact, s 15 gives proponents of religious beliefs and secular beliefs the same rights to express and manifest their belief, teach them, share them, practice them, live in accord with them, in public without limitation. The Bill of Rights allows – no, requires – parallel arguments either way.
So holding that in mind, take a look at the Education Act 1989 (just read the italicised parts if you find legalese confusing):
77  State primary schools to be kept open at certain times
Except to the extent that—

(a) a school term commences on any day other than a Monday or ends with any day other than a Friday; or

(b) a school is lawfully closed pursuant to section 129C,—

every State primary school shall be kept open 5 days in each week for at least 4 hours each day, of which hours 2 in the morning and 2 in the afternoon shall be; and the teaching shall be entirely of a secular character. [Emphasis mine]

78 Religious instruction and observances in State primary schools
Notwithstanding anything to the contrary in section 77, if the school's board for the school district in which the school is situated, after consultation with the principal, so determines, any class or classes at the school, or the school as a whole, may be closed at any time or times of the school day for any period or periods exceeding in the aggregate neither 60 minutes in any week nor 20 hours in any school year, for any class, for the purposes of religious instruction given by voluntary instructors approved by the school's board and of religious observances conducted in a manner approved by the school's board or for either of those purposes; and the school buildings may be used for those purposes or for either of them.
Basically, section 77 states that all teaching in a state school must be secular. Section 78 provides that if you want to bring religious teaching into a state school you have to go to the board, have consultations, officially close the school and bring in volunteers… Equal treatment of viewpoints much?
[The justification for this affront to the Bill of Rights, involves a jurisprudential move utilising a Rawlsian approach and the operational clauses of the Bill of Rights Act - sections 5, 4 and 6. I do not have time to go into how this works here tonight, perhaps another time.]
The only reason the lack of parallel argument is accepted and that some of what you have heard tonight is news is because so many people, including the church, accept the false claim that secular beliefs are neutral and that permitting religious beliefs to be out there in public, in our schools, expressed our government would be somehow tipping the balance towards a bias – privileging one viewpoint over the others – and that that would be unjust. What is unjust and biased is the claim that in order for the state to discharge its duties under the Bill of Rights to treat public expressions of ethical belief as being on par with religion, it must privilege secularism and relegate religion to the private sphere.
---
[1] For a definition of secular in this context see Matt's citation of Robert Audi in Part I.
[2] Steven D Smith "Separation and the Secular: Reconstructing the Disestablishment Decision" (1988-1989) 67 Tex L Rev 955, 963.
[3] Ibid 962-63.
[4] Ibid.
[5] First Amendment of The United States Constitution.
[6] In 2006 British Airways check-in clerk Nadia Eweida was sent home from work after refusing to remove a necklace with a cross Eweida v British Airways Plc [2010] ICR 890, [2010] EWCA Civ 80; Nurse Shirley Chaplin was moved to a desk job by Royal Devon and Exeter NHS Trust Hospital for similar reasons. In April 2011 the two joined forces in an appeal to the European Court of Human Rights: Nadia EWEIDA and Shirley CHAPLIN v the United Kingdom - 48420/10 [2011] ECHR 738.
[7] Ladele v Islington LBC (Liberty Intervening) [2009] EWCA Civ 1357, [2010] 1 WLR 955.
[8] McFarlane v Relate Avon Limited [2010] EWCA Civ 880, [2010] IRLR 872.
[9] Ibid.
[10] Paul Rishworth "Freedom of Thought, Conscience, and Religion" in Paul Rishworth, Grant Hushcroft, Scott Optican and Richard Mahoney (eds) The New Zealand Bill of Rights (Oxford University Press, Melbourne, 2003) 277-307.
[11] C.f. s 2(1) Residential Tenancies Act 1986.
RELATED POSTS:
A Godless Public Square: Do 'Private' Christian Beliefs Have a Place in Public Life? Part I Matthew Flannagan – Theology
A Godless Public Square: Do 'Private' Christian Beliefs Have a Place in Public Life? Part II Glenn Peoples – Philosophy

Tags: Doctrine of Religious Restraint · Freedom of Religion · Jesus Week · Paul Rishworth · Religion in Public Life · Rights and Freedoms · Steven Smith · Thinking Matters140 Comments